Mountain Retreats with Summer Vacation Surprises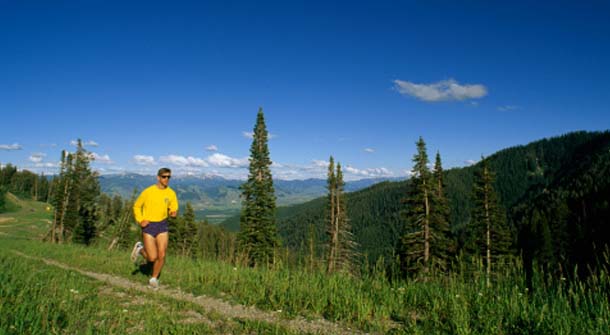 Mention mountain retreats with summer surprises like Vail, Aspen, Jackson Hole, and Lake Tahoe and most people will grab their skis, unless you're mentioning these places during the Summer, and then you'll get a few weird looks. But these mountain retreats have year-round appeal that only gets nicer with fewer crowds and just as much to do. Mountain Retreats for the Ultimate Summer Vacation.
Mountain retreats with summer surprises
Yes, it used to be that ski towns shut down when the slopes did… but it's been well over 40 years since that's been the case in these major resort towns. Just as beach destinations don't shut down in winter, the top ski spots have learned to change with the seasons.
Vail and Aspen, Colorado
In Vail and Aspen, for example you get all of the ski-village charm without the bulky ski boots, equipment and throngs of people scurrying to and from lifts. The beautiful cobblestone paths that get lost under trampled snow in winter come alive with dazzling wildflowers along the pathways and gracious outdoor patio seating at most restaurants and bars. Aside from that, Vail and Aspen are absolute culinary masterpieces – Nozawa, Lancelot, and the Dusty Boot are absolute favorites any time of year in Vail Village and neighboring Lionshead. Ellina, Brexi Brasserie and Gisella top the list in Aspen. Expect similar local-meets-legendary menus throughout Jackson Hole and Tahoe.
Hit the Spa's in Jackson Hole, WY and Lake Tahoe, CA
This is also the right time of year to visit the spa scene at many of the top resorts. Without a busy (aching) ski clientele, it becomes much easier to book appointments for massage, facials, or just a little rest and relaxation. The Rustic Inn at Jackson Hole, The Four Seasons, and Spring Creek Ranch are all great places to unwind in Wyoming… while the Onsen Spa at Montbleu, the Biospirit Day Spa, and the Stillwater Spa at Hyatt Regency are excellent Lake Tahoe choices.
If you're afraid you'll miss the outdoor enjoyment, don't miss out on ski-lift rides (for observation purposes), whitewater rafting and kayaking, and some great mountain biking expeditions – guided or free-roaming.
Most Recommended