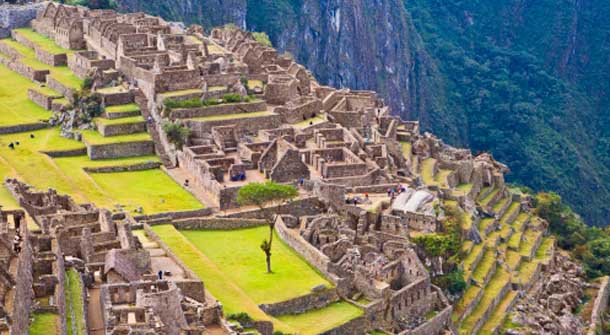 High in the Andes Mountains, nestled right alongside the Pacific Ocean, you can enjoy a Peru vacation that is astounding in its range of atmospheres, cultures, cuisine and history. And, when you visit during the months of November through April, you'll also be enjoying the warm, summer weather.
See what a Peru Vacation has to offer
Earlier this year, in June of 2011, a few warnings were issued for travelers due to some political unrest in the denser urban areas... and although Peru continues to be politically charged, it is considered safe for tourist travelers. As with any journey to a foreign country, it is best to avoid large impromptu crowds of people, and not to stray from well-monitored streets and thoroughfares.
Machu Picchu
As the home to one of the oldest documented cultures in the world (The Incans and Pre-Incan Pukara, Tiwanaku and Colla tribes from 5000 years ago), Peru is still shrouded in mystery and wonder. Nowhere is this more evident than Machu Picchu – a mountaintop village so remarkably preserved it is like it has never been touched by time. Be prepared for a good hike to get to the ruins. It's a steep climb and is highlighted by a lot of stairs going up and down over the landscape... sometimes leading to ladders, other times leading to bridges, but always on foot and without any shortcuts. But, the reward is well-worth the effort. Clouds move in and out amongst a complete stone village overlooking the impressive mountain range.
Sandboarding in Huacachina
When you're ready to get your head out of the clouds, head down into Huacachina to go sandboarding. It's just like snowboarding except done on sand dunes instead of snowy hillsides. And it's a great adventure that takes you on a dune buggy ride through an expansive sand desert that is one of South America's best-kept secrets.
See Arequipa the white city
Back up in the mountains, visit Arequipa (the white city) and try the local delicacy – guinea pig (no, we're not kidding, and yes, it's actually rather tasty when served with potatoes). You can also head to the coast for Pacific surfing (remember, Pacific waters are chilly year round, so buy or rent a wet suit), and amazing seafood like ceviche, tiradito (ceviche's simpler, but equally tasty, cousin), mussels, clams and cold-water oysters. Chicken dishes are also popular here, often in stew-like preparations with tomatoes, bell peppers, local chiles and lots of citrus.
Put it all together and you've got tasty, healthy cuisine, a lot of activity, great off-season temperatures and a healthy vacation just waiting for you to take advantage of it soon.