Seattle Washington For a Summer Fit Vacation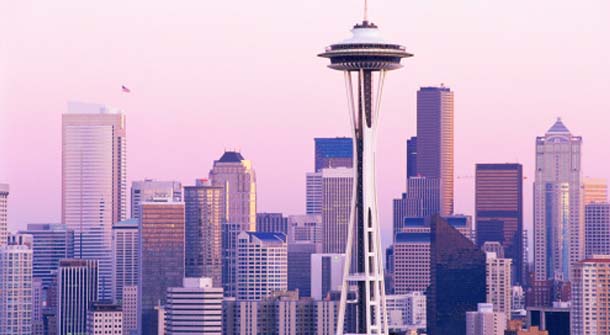 If your new year's resolution was to travel more this year we recommend starting right here in the USA. Summer fit vacation Seattle Washington To put you in the best locations for each season we have our Four Corners for Four Seasons tour that we continue on Seattle, Washington.
Summer fit vacation Seattle Washington
Vacations are a great way to relax and unwind, but many people are concerned that missing out on their exercise routines will have them coming back from their vacations in poorer shape than when they left. Fortunately, places like Seattle, Washington are not only wonderful to visit in the summertime, but you can make a "fitness vacation" out of the experience, finding fun ways to explore the emerald city while maintaining your exercise routines.
Seattle is a wonderful city that may best be known for coffee, the thriving fish market Pikes Place, and lots of rain year round. However, the summer months offer the most sunny days to enjoy the great outdoors both in the city and outside in the many wooded areas that surround Seattle. Here are just a few ways you can make your trip to Seattle a fitness vacation that you will enjoy immensely while staying in great shape.
Beach Walking:
This is an obvious one, the Seattle area has plenty of beautiful beaches along Puget Sound and Lake Washington where you can walk, jog or run to help stay in shape. If you want more of a complete exercise you can volunteer for a day to help rip out invasive vegetation, push wheelbarrows and even dig holes to help keep the beaches sparkling.
Bird Watching:
While most of us think of bird watching as a sedentary activity, you actually get to walk around with the Seattle Audubon Society on one of their weekly field trips to see bald eagles and the famous Steller's jays along with the many water birds that populate the area. You'll get plenty of walking in which can keep your weight down and improve your cardio as well.
Geocaching:
Walking around beautiful Mount Rainier can be a great way to get in some good aerobic exercise, but partaking in a game of Geocaching can add greatly to the experience. Log on to the official Geocaching.com site and find one of the 10,000+ GPS devices in the Washington area. This is a great way to add to your workout while climbing the hills and mountains around Seattle.
Ultimate Frisbee:
If you remember your college days, you probably remember this great game of tossing the Frisbee around and chasing after it, providing plenty of great aerobic exercise. However, Ultimate Frisbee is a step up for your fitness vacation. The Seattle area has numerous parks where play is encouraged and you can join a pickup game or play competitively if you wish. Whatever the case, you will be in for a good workout.
WhirlyBall:
Are you looking for a less intense workout perhaps? Maybe one where you use your arms more than your legs? WhirlyBall is the answer as you sit inside a WhirlyBug (or bumper car) where two teams of five people each with plastic scoops for passing and shooting try to get a whiffle ball across the court to score. There is a strict "no bumping" policy but there is plenty of accidental hits. However, you will get a good upper body workout while your legs take a break.
These are but a few activities you can enjoy on your fitness vacation to Seattle. This way you can enjoy your trip and stay in shape as well.
Most Recommended