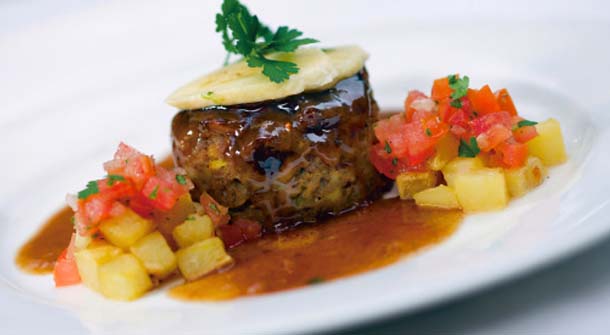 Do your travel plans originate while watching" "No Reservations," or "Diners, Drive-Ins and Dives?" Do you linger over the fine cheese section in the supermarket? Does your idea of the perfect vacation include the terms "perfectly seared," "aged," or "reduction sauce," rather than "11 herbs and spices"? If the answer is yes, you're probably a travel foodie. Foodies differ from the burgers-fries-and-pizza set (although they like that stuff too, if it's well-made). Foodies appreciate quality and freshness. They are passionate about eating well, and they love the thrill of discovering new flavors and cooking techniques... particularly while traveling. So what's a weight-conscious foodie to do?
Well, first of all, don't despair. You're not confined to granola and sad low-calorie reproductions of your favorite meals. There are some simple tips that can help keep you on track, without having to sacrifice all the flavors you love.
1. Balance your diet.
You don't have to "eat to live," but don't "live to eat," either. As long as the bulk of your diet includes lean protein, a variety of colorful fruits and vegetables, "good" fats and high-fiber foods, you can enjoy your favorite dishes guilt-free. Don't stress over counting calories – just apply some good old-fashioned common sense and a little self-discipline. If you know you will indulge in a heavy meal or a decadent dessert at dinner, keep your breakfast and lunch light. Also, practice portion control. If you're dining out, ask that half of your food be boxed to take home and enjoy it the next day. Or, share an entrée with your travel/dinner companion.
2.Learn to enjoy new food combinations.
The benefit of being a foodie -- as far as your waistline goes – is that for you, it's not all about the fatty, salty, creamy dishes. It's about flavors, textures, and meals that truly satisfy. Use your natural openness to new foods to explore healthy options. The most colorful vegetables offer the most flavor and the most vitamins, and they make every plate look restaurant-worthy. Nuts and seeds add texture and richness to almost any type of dish, and they're rich in heart-healthy fats. And there's really nothing like a dessert created from fresh seasonal fruit.
3.Go international.
Indulging in foods and flavors from cultures known for their healthy eating habits, such as Greek, Japanese or Thai, can be a great way to eat well without packing on the pounds.