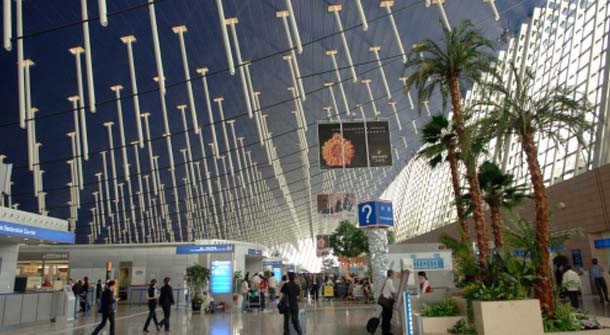 If you have been to the airport lately you're probably more worried about packing your toiletries in 3 oz. bottles and making sure you don't have any metal on your clothing than what you are going to eat. Top airport food restaurants in the USA. When airport restaurants come to mind you probably think of fast food or a sit down at Chilli's if you're lucky. Airports have been looking to change that stigma and ease the stress of air travel by providing upscale and healthy dining. Plus now that airlines aren't offering food onboard airports are cashing in on hungry travelers. We have come up with the Top 5 best airport restaurants that are a must stop if you're passing through any of these destinations.
Top airport food restaurants in the USA
1. JFK
Deep Blue Sushi (Terminal 5)- With the addition of terminal 5 JFK has gone from one of the worst airports to eat at to one of the best. One of the best eateries is Deep Sushi Blue where they feature fresh high end sushi and a highly review crab fried rice with a Spanish egg on top.
2. San Francisco
The Napa Farms Market (located in Terminal 2) This is a one of a kind food court made up of San Francisco's best artisanal products, meals and snacks. The Equator coffee bar features freshly ground brews from all over the world and sells bags of coffee beans you can take with you or pick up as a gift. The Acme bread and cowgirl creamery is a great stop where you can pick up French style sandwiches with fresh Mount tam cheese. Before you get back on the plane don't forget to stop by the Vino Volo wine bar for their $14 flights of California pinot nior. You can also purchase bottles in store and carry them on your flight.
3. Atlanta
One Flew South (concourse E) – This upscale dining experience boasts "southernational" cuisine inspired by world travels. Reviewers claim that once you step in you actually forget you are at an airport. Here you can find a duck confit sandwiches and a rare Kobe burger seared to perfection. They have freshly infused cocktails and a respectable wine list.
4. Boston
Legal Sea Foods (Terminal C has the traditional restaurant) If you are traveling through Boston Logan airport and can't make it into the city stop at Legal Seafood for a little taste of Boston. The house specialty is their whole claw meat lobster roll and their famous chowders.
5. Los Angeles
Encounter (center of airport before security) Take a psychotic elevator ride up to the one of a kind alien space ship themed Encounter restaurant. The dining room features a panoramic view of the airport runways and the food is like a piece of art. On the menu you can find roast chicken, grilled salmon and steaks with fresh California touches.