Bowl Games 2012 NCAA Football Must See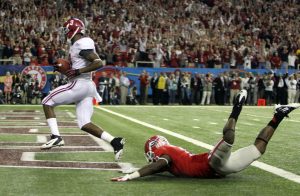 NCAA College Football's highly anticipated bowl games kick off next week. There are over 30 bowl games scheduled beginning Saturday, December 15. Below we preview the hottest, must-see upcoming bowl games.
Saturday, December 29, 2012
13 Oregon St. (9-3, 6-3 Pac-12) vs. 23 Texas (8-4, 5-4 Big 12) – Valero Alamo Bowl
In a battle of inconsistent teams, Oregon meets Texas. Coming off two loses in their final two games of the season, Texas definitely doesn't have momentum on their side. With that said, Oregon should win a hard fought battle when it's all said and done.
Monday, December 31, 2012
8 LSU (10-2, 6-2 SEC) vs. 14 Clemson (10-2, 7-1 ACC) – Chick-fil-A Bowl
LSU's hard-nosed offense meets Clemson's top-flight offense. As the boxing adage holds, "styles make fights." A great defense almost always trumps a great offense and the same should transpire here. LSU wins a rugged battle.
Tuesday, January 1, 2013
10 South Carolina (10-2, 6-2 SEC) vs. 18 Michigan (8-4, 6-2 Big Ten) – Outback Bowl
South Carolina takes on an almost always game Michigan team. The Gamecocks are justifiably favored due to their superior defense. Hence, Michigan should hang tough for awhile only to fall short when the going gets tough.
7 Georgia (11-2, 7-1 SEC) vs. 16 Nebraska (10-3, 7-1 Big Ten) – Capital One Bowl
In what could turn out to be the sleeper of all the BCS bowl games, Georgia's sturdy offense takes on Nebraska's set of running back studs. In its last game, Georgia faired pretty well against #2 Alabama, only losing by four points. That confidence should lead them to victory over a Nebraska team that will surely fight until the final second.
12 Florida St. (11-2, 7-1 ACC) vs. 15 North Illinois (12-1, 8-0 MAC) – Discover Orange Bowl
On paper this appears to be a decent contest, but many insiders feel Florida will prove to be a force too great. Illinois may not play in a division as tough as the ACC, but they've proven to be formidable all year.
The Seminoles should win a harder than expected battle.
6 Stanford (11-2, 8-1 Pac-12) vs. Wisconsin (8-5, 4-4 Big Ten) – Rose Bowl Game (Vizio)
Stanford's top notch run defense meets Wisconsin's powerful offensive line and running game. This combination should result in an entertaining and compelling matchup. At the final whistle, Stanford led by its defense should prevail.
Wednesday, January 2, 2013 bowl games
3 Florida (11-1, 7-1 SEC) vs. 21 Louisville (10-2, 5-2 Big East) – Allstate Sugar Bowl
Seven of the Louisville Cardinals' last ten games have been decided by a touchdown or less. Louisville is hoping that transfers over to their big Sugar Bowl game against Florida, a team with a formidable running game. This is a tough pick, but the lean goes Florida's way.
Thursday, January 3, 2013
4 Oregon (11-1, 8-1 Pac-12) vs. 5 Kansas St. (11-1, 8-1 Big 12) – Tostitos Fiesta Bowl
This game may arguably turn out to be the best of all the BCS matchups. Both teams boast prolific offenses. Therefore, it's easy to envision a shootout which goes down to the wire. In the end, Oregon will likely come out victorious.
Friday, January 4, 2013
9 Texas A&M (10-2, 6-2 SEC) vs. 11 Oklahoma (10-2, 8-1 Big 12) – AT&T Cotton Bowl
Both teams are known for their high octane offenses and this will be another game where lightning meets thunder. Expect a shootout that has everyone on the edge of their seats the whole way. As for the winner, this game is the definition of a true toss-up.
Monday, January 7, 2013 bowl games
1 Notre Dame (12-0, 7-0) vs. 2 Alabama (12-1, 7-1 SEC) – Discover BCS National Championship
In one of the biggest games in recent years, top ranked Notre Dame takes on the defending national champion from the SEC, Alabama. Notre Dame should prove it deserves to be in the big game, but ultimately Alabama's experience and offensive savvy should lead them to their third BCS title in four years.
Most Recommended