2013 Heisman Trophy Finalists Named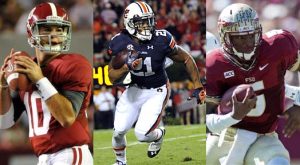 Six college football players, two running backs and four quarterbacks, were named as the 2013 Heisman Trophy finalists given annually to the game's best player.
Florida State's Jameis Winston is the front-runner in the race to win the award having led the Seminoles to an unbeaten season (13-0) and an ACC championship. FSU will play in the BCS National Championship game on Jan. 6 against Auburn. It will be Florida State's first opportunity to win a national title since 2000.
Winston, a redshirt freshman, finished the regular season with 4,013 passing yards and 42 total touchdowns. He has completed 70 percent of his passes and his passing efficiency rating of 190.1 is on pace to break the NCAA record.
Last year's winner, Johnny Manziel of Texas A&M, was also named a finalist. Manziel actually had better passing stats this year than last, but his rushing numbers were lower and the Aggies lost four games this season. Manziel threw for 3,732 yards, ran for 686, and scored 41 total touchdowns.
Jordan Lynch, QB at Northern Illinois, has had an amazing career as a Huskie. His Heisman hopes most likely disappeared after his team lost in the MAC final to Bowling Green, but what he has accomplished is nothing short of amazing. Lynch threw for 2,676 yards and 23 touchdowns. He also ran for 1,881 yards, an NCAA rushing record for quarterbacks, and 22 more scores.
Alabama's A.J. McCarron had another solid season as a senior this year. While Alabama lost out at another chance for a national championship, McCarron threw for 2,697 yards and 26 touchdowns leading the Crimson Tide to an 11-1 record and berth in the Sugar Bowl.
Both running backs named as Heisman finalists eclipsed the 2,000-yard mark this season. Auburn's Tre Mason , who ran for an SEC Championship game record 304 yards, has racked up 2,137 yards and 23 TDs. He is a big part of the Auburn offense, which leads the nation in rushing with 330 yards per game.
Andre Williams of Boston College was the first to surpass the 2,000-yard mark this season becoming the first player to hit the mark since 2008. He has 2,102 yards and 17 TDs going into the Eagles bowl game.
All six finalists are expected to attend this year's ceremony, which will take place this coming Saturday, December 14. The award presentation begins at 8 p.m. ET.
Most Recommended