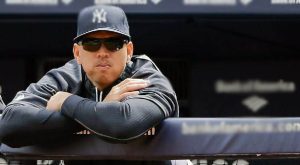 The drug cloud hangs over Major League Baseball once again. Alex (A-Rod) Rodriguez is the biggest name in a performance-enhancing drug scandal that includes 20 players, each of whom might be suspended by MLB.
The investigation centers around a Miami-area clinic, the now-defunct Biogenesis of America owned by Tony Bosch. Bosch met with MLB officials last week in New York and will continue to do so over the next week or so. He and his lawyers will begin sharing information and materials with MLB. This is on the heels of an agreement between the MLB and Bosch where Bosch agrees to give up information related to the case in exchange for the MLB not filing suit against him.
Investigators have named 20 players with ties to Biogenesis including Milwaukee Brewers' outfielder Ryan Braun, the 2011 National League MVP. Braun is batting .292 thus far this season with nine HRs and 35 RBIs. Other recognizable names include Toronto's Melky Cabrera, the A's Bartolo Colon (a former American League Cy Young Award winner), and Jhonny Peralta of the Tigers.
Sources familiar with the case say that commissioner Bud Selig might seek 100-game suspensions for Rodriguez, Braun, and the others. The 100-game suspension is the norm for a second doping offense. In this case, players would be penalized for their association with Bosch, one offense, and for their statements to MLB denying any use of performance-enhancing drugs, the second offense.
Rodriguez has admitted to using performance-enhancing drugs in the past. Colon and Cabrera each were suspended for 50 games last season after they tested positive for elevated levels of testosterone. Rodriguez's teammate, Francisco Cervelli, was also linked to the Biogenesis clinic. Cervelli said that he had sustained a foot injury and consulted the clinic about it, but did not receive any treatment.
A-Rod has yet to play in a game this season following hip surgery in January. He is not expected back until after the All-Star break next month. His current contract, a 10-year, $275 million whopper, runs through 2017, but the aging star may have trouble holding up especially if he receives the 100-game suspension.