Aaron Hernandez Arrested On Charges Of First Degree Murder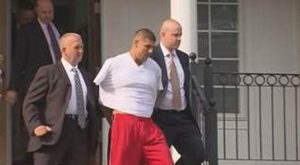 New England Patriots tight end Aaron Hernandez was officially arrested Wednesday with a charge of first-degree murder in the death of Odin Lloyd. Lloyd was a semi-pro football player and former friend of Hernandez.
Lloyd had been dating the sister of Hernandez's fiancee and were out together on the last night of Lloyd's life. Surveillance footage shows the two together on June 14, the night of the murder. That footage also shows Hernandez leaving his home with a gun.
Hernandez will have a probable cause hearing on July 24 to determine if the prosecution has enough evidence to continue with the case. Hernandez's attorney, Michael Fee, states that the case is purely circumstantial and is not a strong case against his client. Should the case go to trial, Hernandez could get life in prison without parole.
The prosecution also charged Hernandez 2 counts for possession of a large capacity firearm, 2 additional counts of possession of a farm with out the appropriate firearm ID card and a single count of carrying a firearm with out a licence.
The Patriots organization released the tight end after the official arrest. Aaron Hernandez has other problems as well. A man in Florida filed a lawsuit last week claiming that Hernandez shot him after they had an argument at a strip club in February. No criminal charges were filed and the case in inactive due to the alleged victim refusing to cooperate.
As the investigation into Lloyd's death began, Aaron Hernandez engaged in some suspicious activity. He destroyed his home security system and, when asked to provide his cell phone to authorities, it was delivered in pieces. He also hired a cleaning company to come in and scrub down his North Attleboro home.
Aaron Hernandez, who was drafted in 2010 out of the University of Florida, was denied bail even though his attorney argued that the 23-year-old is unlikely to flee. He lives with his fiancee and their eight-month-old baby. Hernandez was ordered to the Bristol County House of Correction and Jail pending the July 24th hearing.
Most Recommended