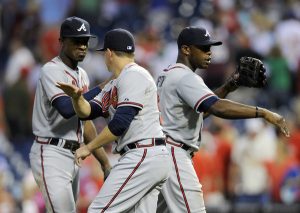 The Atlanta Braves extended their winning streak to 13 games with a 6-3 win over the Washington Nationals on Wednesday night and are now 15 ½ games ahead of their division rivals in the National League East.
Atlanta's streak is the longest in Major League Baseball since the 2002 Oakland A's, of Moneyball fame, won 20 straight. The Braves are now 10-3 versus the Nationals with just six more games remaining between the two teams.
What Atlanta has done is nothing short of amazing considering the Braves lost two-fifths of their starting pitching rotation in July. On July 24, Tim Hudson suffered a season-ending ankle injury. Just four days prior, Paul Maholm went on the disabled list with a bruised wrist suffered during his July 20th start.
The Braves' offense has produced a whopping 5.9 runs per game during the streak, but it's the pitching and defense that has been most impressive. Atlanta is allowing just 2.4 runs per game and only once have they allowed more than four runs. Minus that outing, Atlanta is yielding just 1.9 runs per game.
Atlanta, which opened the season 12-1, is the first team in the majors to reach 70 wins. The Pittsburgh Pirates, however, have the best record in baseball at 69-44 for a winning percentage of .611, just two percentage points ahead of the Braves.
Atlanta Braves manager Fredi Gonzalez will have to continue his protein shake regimen which started with the first game of the streak. Bullpen coach Eddie Perez gave Gonzalez the concoction and now the Braves skipper sips on one all game long. Even though the taste is horrible, Gonzalez can't stop from drinking it with his team on a roll. "I don't even know what it is," Gonzalez said. "But I've been drinking them for 13 days in a row now. We're superstitious, you know."
Gonzalez gets a little bit of a break. The Braves are off on Thursday before beginning a three-game home stand with Miami.