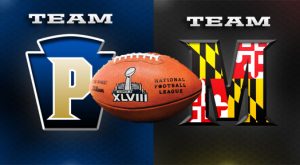 Each July, the best high school football players in the state of Pennsylvania get together and play in an all-star football game by the name of the Big 33 Football Classic. For years, the Pennsylvania stars battled the best from the state of Ohio and Texas. Currently, each summer they take on the best from the state of Maryland. It has been played every year since 1957 and has often been dubbed the "Super Bowl of High School Football." It is a deserving title since it shares something in common with the NFL's Super Bowl.
In each of the 48 Super Bowls – that includes today's game – there has been at least one player who played in the Big 33 Football Classic on the roster of an NFL team playing in the Super Bowl. Every single one. The tradition lives on this year with three former Big 33 players who will take part in Super Bowl XLVIII. Seattle's Jordan Hill, who played collegiately at Penn State, played in the 2009 Big 33 game. Denver has a pair of Big 33 alums in QB Zac Dysert and backup center Steve Vallos. Both were members of Ohio teams that played in the Big 33 game in the 2000s.
Each year when the players have been selected and meet with the Big 33 Foundation and their coaching staff, they will be told that it is highly likely that at least one of them will go on to play in a Super Bowl someday. Years ago, it was Joe Namath, Joe Montana, Dan Marino, and Jim Kelly. Each of those four Hall of Fame quarterbacks is a Big 33 alumnus. When the NFC playoffs were set, it was guaranteed that the Big 33/Super Bowl streak would stay intact. All six NFC playoff participants had at least one Big 33 alumnus.
It may be just another high school football all-star game held each summer. For those who play in it, the Big 33 Football Classic is the first step in a journey. Many go on to play college football. Some will play professionally. And then there are those who reach football's ultimate game – the Super Bowl.
Super Bowl XLVIII, with its Big 33 alumni, kicks off today at 6:30 p.m. It will be aired on FOX.