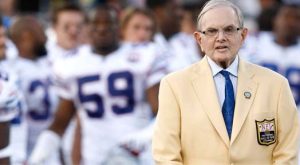 The last surviving owner of an old American Football League franchise, Ralph Wilson, owner of the Buffalo Bills, has passed away at the age of 95. The announcement was made Tuesday by current Bills president Russ Brandon at the NFL Annual Owners Meeting in Orlando, Fla.
Wilson bought the Bills for $25,000 back in 1959. Today, the franchise is worth in the neighborhood of $870 million.
The Bills owner had been receiving hospice care and died in his home in Grosse Pointe Shores, Mich. Wilson grew up in the Detroit area and maintained a home in Grosse Pointe Shores for many years.
Wilson was the oldest and longest-tenured owner in the NFL, having served 54 years. After a stint in World War II, Wilson took over the family insurance business and became very successful. When he learned of a new football league being started to challenge the NFL, Wilson tried to start a franchise in Miami. That deal fell through, but he was able to start the Bills in October of 1959 and joined the new league, started by Lamar Hunt, the AFL.
The league started with 10 teams, all of which remain in some form today, and played from 1960 through the 1969 season before merging with the National Football League. Wilson was one of the most well-off owners and actually put up $400,000 of his own money to bail out the Oakland Raiders and also helped the Boston Patriots stay afloat. The AFL was a rarity, and still is, as none of its teams folded.
Wilson's teams won two AFL championships and his Bills teams of the 1990s are legendary. Led by Hall of Famers QB Jim Kelly, WR Andre Reed (who will be inducted this year), and DE Bruce Smith. The Bills went to an unprecedented four straight Super Bowls, but have the heart-breaking honor of being the only team in NFL history to lose four straight Super Bowls.
The Bills owner was the team's president up until 2001 when he retired but came back in 2006 to retake control of the organization. He finally turned the reins over to Brandon just last January.