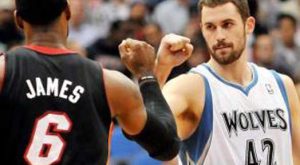 It had been talked about for months. Saturday, it finally became official. Kevin Love is now a teammate of LeBron James after a three-team trade involving the Cleveland Cavaliers, Philadelphia 76ers, and Minnesota Timberwolves was finalized Saturday afternoon. Love moves from the T-wolves to Cleveland while Minnesota acquires this year's No. 1 selection in the NBA Draft, Andrew Wiggins. Minnesota also received Anthony Bennett, a 2013 first-round pick of the Cavs, Thaddeus Young from the 76ers, and $6.3 million in cash.
Philadelphia picked up a 2015 first-round draft pick along with Minnesota guard Alexey Shved and forward Luc Richard Mbah a Moute.
The deal had been talked about ever since the NBA Draft in late June, but a little-known NBA rule caused the teams to wait to complete it. Teams must wait 30 days after a rookie signs his contract before trading him. Wiggins had signed his contract, but the Cavs were also hesitant to part with the outstanding rookie.
The Cavaliers now have two of the marquee players in the NBA in Love and James. Love, a 6-10 power forward, averaged 26.1 points and 12.5 rebounds per game in the 2013-2014 season. In his six seasons in the NBA, Love is averaging 19.2 points and 12.2 rebounds. He will bring another dimension to the Cavs. Add in that Love is just 25 years old and it is easy to see why Cleveland is poised to make a run at an NBA title next season.
Cleveland had been trying to acquire Love even before James decided to return to Cleveland. The Cavs had to wait until the 30-day mark on Wiggins' contract and then had to re-think trading Wiggins. In the end, they decided that adding Love to a lineup that will include not only James but also point guard Kyrie Irving was too much to pass up.
The addition of Love could be the thing that brings a professional sports league championship to Cleveland for the first time since 1964.