Boston Red Sox Are Division Champions Once Again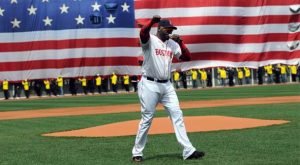 With a 6-3 victory over the Toronto Blue Jays, the Boston Red Sox secured the American League East Division title and are champions once again.
It's the Red Sox first playoff berth since 2009 and the team's first division championship since 2007. Boston can now relax for a few days. With their victory, they bypass the wild card playoff and can get some much needed rest.
Boston won just 69 games a year ago and immediately replaced manager Bobby Valentine with John Farrell. The move paid off.
Starting pitcher Jon Lester went seven innings Friday for Boston to claim his 15th victory on the season and the 100th win of his career. He struck out eight and walked just two in giving up just one run on five hits. He is now 15-8 on the season.
After Lester exited the game, Adam Lind, Toronto pinch-hitter, nailed a two-run home run in the eighth inning to make it 5-3 in favor of Boston. Reliever Koji Uehara finished the eighth and pitched the ninth to earn save number 20.
Dustin Pedroia led Boston with three hits, including a lead-off double in the first inning. Pedroia scored the Red Sox first run of the game on a wild pitch.
Toronto will wind up as the only team in the AL East that has a losing record. The New York Yankees, currently in fourth place in the division, won their 81st game of the season on Friday ensuring at least a .500 record.
With his win, Lester is now the 11th pitcher in Boston history to earn 100 victories. In leading the Red Sox to the playoffs in his first season as manager, Farrell becomes the seventh skipper to do so. He is the first since Terry Francona in 2004 to do so. Boston red sox are champions.
Most Recommended