Broncos Head Coach John Fox Needs Heart Surgery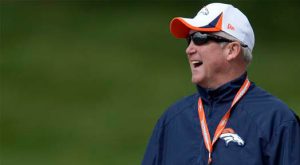 Denver Broncos head coach John Fox was enjoying a round of golf on a Charlotte, NC, golf course when he suddenly became dizzy. He was taken to a local hospital where it was revealed that the third-year coach will need to have aortic valve replacement surgery as soon as possible.
Fox had known of his heart condition and was told by his cardiologist that if he suffered from any discomfort at all he was to seek immediate medical attention. After his dizzy spell on Saturday, doctors determined that Fox will need to have the surgery, which will be scheduled for early this week.
The Broncos are currently 7-1 trailing only surprising Kansas City (8-0) in the AFC West Division. Denver has been considered a Super Bowl favorite since the beginning of the season. They are currently enjoying their bye week, which had allowed Fox to visit his offseason home near Charlotte. Denver's next game is November 10 when they will play San Diego, another AFC West opponent.
Fox will likely miss several weeks while recovering from the surgery. Although Denver has not named an interim head coach, it is likely that defensive coordinator Jack Del Rio, a former NFL head coach, and offensive coordinator Adam Gase will assume additional duties.
In this, his third year in Denver, Fox has accumulated a 28-12 record and two AFC West titles. The Broncos fell last year to eventual Super Bowl champion Baltimore in the AFC Divisional Round. Fox also coached in Carolina and led the Panthers to Super Bowl XXXVIII, the only appearance in franchise history. Carolina lost to New England on a last second field goal by Adam Vinatieri.
After facing San Diego next weekend, the long awaited match-up between the Broncos and Chiefs takes place on November 17 on NBC's Sunday Night Football. Denver will return to Sunday Night Football the following week against New England and then take on Kansas City once again on December 1.
Most Recommended