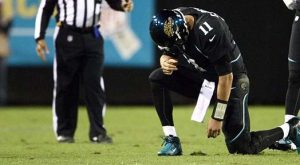 Sunday's match-up between the unbeaten Denver Broncos and the winless Jacksonville Jaguars has tied the record for the largest NFL point spread in the history of the league. The game, which will be in Denver next Sunday, shows a line of -28 for Denver.
The Gold Sheet, one of the most well-known sports betting publications, has tracked every single points spread since the 1950s. The record for the largest spread was set in 1966 when the Baltimore Colts were favored by 28 over the league's newest expansion team, the Atlanta Falcons. The Falcons wound up covering the spread in that game.
Sunday's game will be the largest point spread in a league game since the merger of the NFL and the AFL back in 1970. The previous high was in December of 1976 when the Pittsburgh Steelers were 27-point favorites over the expansion Tampa Bay Buccaneers. The Steelers won, 42-0, and covered the spread.
Jacksonville, which has yet to win in five tries, may be one of the worst teams in history. The Jags are not well respected in Vegas. Bookmakers made the Jaguars double-digit underdogs to St. Louis, a team that had lost three games in a row and had not covered the spread all season. Jacksonville did not cover.
The Jags and new head coach Gus Bradley are the definition of futile. Denver, in its win over Dallas last week, put up 51 points. Jacksonville has also put up 51 points…for the season! Broncos QB Peyton Manning has opened the season on a tear. So far, Manning has thrown for 1,884 yards and 20 touchdowns, a season for some quarterbacks.
With Denver's offense averaging 46 points a game and the Jags just 10 points a game, it was not a surprise that the spread for Sunday's game be in the double digits. Denver's defense yields a league-best 69.6 rushing yards per game and is just as good as their offense. With Jacksonville among the league's worst when it comes to certain statistics, Denver could cover the largest point spread in NFL history.