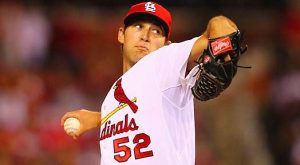 St. Louis Cardinals rookie pitcher Michael Wacha carried a no-hitter into the ninth inning in last night's 2-0 win over the Washington Nationals. With one out to go, Ryan Zimmerman beat out an high chopper to the middle of the infield that broke up Wacha's no-hit bid.
For Wacha, the 19th pick in the 2012 MLB Draft, it just wasn't meant to be. Cardinals' shortstop Pete Kozma charged Zimmerman's hit that bounced over Wacha, bare-handed it, and threw just a bit wide to first baseman Matt Adams. The throw pulled Adams off the bag and, just like that, the no-hitter ended.
It was a brilliant outing for the rookie who was the fourth pitcher this year in the majors to take a no-hitter into the ninth inning and lose it. Back in April, Texas pitcher Yu Darvish was working on a perfect game with two outs in the ninth before losing it. Anibal Sanchez of the Tigers lost his no-hitter with one out in the ninth against Minnesota and Yusmeiro Petit of the Giants gave up a two-out single in the ninth just 18 days ago to lose his no-hit bid.
Wacha, now 4-1, finished with nine strike outs and walked just two batters. He retired the first 14 batters that he faced. In the fifth inning, Adam LaRoche reached base on an error ruining the perfect game bid. After giving up the hit to Zimmerman, Wacha left the game. Trevor Rosenthal pitched to Jayson Werth, who grounded out to end the game giving Rosenthal his second save.
The Cardinals are now two games ahead of Pittsburgh as they look to win the National League East. Both the Cardinals and the Pirates have clinched playoff berths. The Cardinals could overtake the Atlanta Braves for the best record in the NL. They are just a half-game back.