Cards-Red Sox 2013 World Series Starts Tonight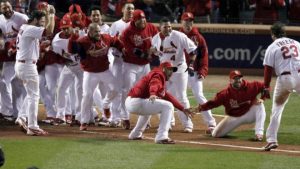 In what should be a great series, the National League champion St. Louis Cardinals take on the American League champion Boston Red Sox beginning tonight to decide who will walk away with the 2013 World Series title.
The two teams have met previously, three times, in the World Series, the last in 2004 when the Red Sox swept the Cardinals in four games. Prior to that, the two teams met in 1967 when Hall of Fame pitcher Bob Gibson of the Cardinals struck out George Scott in Game 7 to give St. Louis the victory. The Cardinals also won in 1946.
If there is an advantage in this latest series between the two clubs, it is pitching. The Cardinals have possibly the best right-handed pitching staff in all of baseball and, arguably, the game's best pitcher in Michael Wacha.
Wacha, a 22-year-old rookie, has been nothing short of amazing in his last four starts. He has allowed just nine hits to 97 batters and one earned run in 29 2/3 innings. His ERA over that span – 0.30 ERA. The problem for the first-round pick out of Texas A&M is that he will have to contend with a Boston offense that scored more runs than any other in all of baseball.
While the Cardinals' pitching staff of Wacha, Adam Wainwright, Lance Lynn, and Joe Kelly are all right-handed, it should be noted that Boston hit right-handed pitching better than every team in Major League Baseball. Their on-base percentage of .818 was 30 points better than the next best team.
The Red Sox struggled, though, against a similar right-handed rotation in Detroit. Tigers pitchers struck out Boston hitters 55 times and limited the Red Sox to a .189/.275/.287 batting line. Where Boston had success was against the Tigers' relievers and they will likely have to do so again in order to beat St. Louis.
Boston's relievers may be a key to the series for the Red Sox. Junichi Tazawa and Koji Uehara are two of the game's best. Uehara has dominated hitters, especially left-handed hitters, with his split-fingered fastball.
The series will come down to whether or not St. Louis can control the bats of Boston. Mike Napoli has been on fire lately, batting .300 with two home runs in the Detroit series. Designated hitter David Ortiz is their best hitter and Games 1 and 2 are in hitter-friendly Fenway Park.
Game 1 is set for Wednesday night with St. Louis' Adam Wainwright going against Boston's Jon Lester. Game time is 8:07 p.m.
Most Recommended