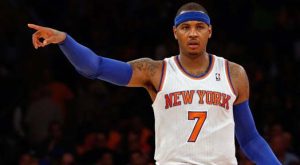 Carmelo Anthony scored 62 points breaking a New York Knicks and Madison Square Garden record in the process as the hometown Knicks defeated Charlotte 125-96 on Friday night.
It was a career-high for Anthony who shot 23-of-35 from the floor and hit 10-of-10 from the free throw line. He began his torrid pace with a 20-point first quarter. The only other player in the league with 20 points or more in the first quarter is Joe Johnson, who did it against the Miami Heat on Jan. 10.
Anthony played so well that he also added 13 rebounds and scored the most points in an NBA game without a turnover. Turnovers started to be counted as an official statistic in the 1977-78 season and no player has scored as many points without turning the ball over as Melo's 62 Friday night.
He most likely could have hit 70 or higher, but played just the first few minutes of the fourth quarter. Anthony had 56 points at the end of three periods of play. That total beat the mark set by Oklahoma City's Kevin Durant who had 54. Melo stayed in the game early in the fourth quarter in order to break the Knicks scoring record set by Bernard King. Anthony's total also broke the Garden record of 61 set by Kobe Bryant just five years ago.
Anthony's double-double adds him to a list of just six players who have scored 60 points or more and had at least 10 rebounds. The feat was last accomplished by Tracy McGrady, who had 62 points and 10 rebounds, back in 2004.
The Knicks forward is now averaging 27 points and nine rebounds per game. Last year's NBA scoring champion is now second this year behind Durant, who has been hot as of late and is averaging 31 points per game. The Knicks continue their season with their next four games at home including a date with LeBron James and the Heat on Feb. 1.