Phil Jackson Will Be The New York Knicks' President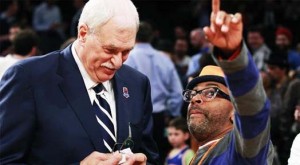 Retired NBA coach Phil Jackson signed a five-year contract to become the president of the New York Knicks on Friday. There was speculation throughout the week that Jackson would take a front office job with the Knicks.
Reportedly, Jackson's deal will pay him around $12 million per year, but will not include any stake in the organization. Talks between Jackson and the Knicks, currently 26-40 and in ninth place in the Eastern Conference, had been going on for several months. There was even talk that Jackson might be named the next coach in New York to replace the embattled Mike Woodson.
Jackson's name came up in talk of the Los Angeles Lakers and their demise this season. There was, of course significant interest in bringing the former Lakers coach back to L.A., but Jackson was never contacted by the organization. Ironically, Jackson is the fiancée of Lakers executive vice president Jeanie Buss, daughter of longtime Lakers owner Jerry Buss, who passed away last year.
Jackson did two stints in Los Angeles, the first from 1999 to 2004 produced three straight NBA titles from 2000 to 2002. Those three were part of an NBA record 11 championships won by Jackson who coached Michael Jordan and company in Chicago, where he won six titles.
The Knicks have won five in a row and are now 3 ½ games out of the eighth and final playoff spot, currently held by Atlanta. Jackson will be busy in his first year with the club. He'll need to figure out what to do about star Carmelo Anthony. The Knicks leading scorer will most likely opt out of the last year of his contract. He can sign a deal with New York for $33 more than he can get anywhere else.
Jackson will also have to figure out what to do about Woodson. It is a foregone conclusion that he will be dismissed at the end of the season, but who will Jackson choose to replace him? Most likely, the successor will be a Jackson disciple like Kurt Rambis or Steve Kerr. Jackson will also have to manage the salary cap as the Knicks will be over it come summer time.
Most Recommended