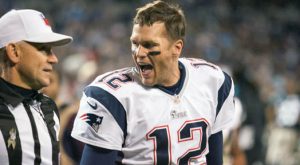 The Carolina Panthers are definitely for real as QB Cam Newton and the NFL's No. 1 defense defeated the New England Patriots, 24-20, on Monday Night Football. The game ended with some controversy as Patriots QB Tom Brady threw into the end zone on the game's final play and officials threw a flag for what appeared to be a pass interference penalty. After conferring, the officials decided there was no penalty and the game ended.
It was the sixth straight win for the Panthers since starting the season 1-3. Their second impressive win of the season comes just eight days after defeating NFC power San Francisco, 10-9.
Newton, who finished 19-of-28 for 209 yards and three touchdowns, led Carolina on an 83-yard drive in the final minutes to secure the victory. Trailing 20-17, the Panthers used 13 plays to score on a Newton to Ted Ginn 25-yard TD pass with just 59 seconds remaining in the game.
Brady, who wound up 29-of-40 for 296 yards, then calmly marched New England to the Carolina 18 with three seconds left. On the game's final play, Brady stepped up in the pocket and threw into the end zone. The pass was intercepted by rookie Robert Lester, but a flag was thrown as it appeared Patriots TE Rob Gronkowski was held by Carolina LB Luke Kuechly.
The officials conferred after the play and referee Clete Blakeman announced that no penalty had occurred on the play. The ball was ruled uncatchable by Gronkowski and therefore, there was no interference. Brady was obviously upset as he could be seen expressing his opinion to the officials as they headed to the locker rooms.
The Patriots are now 7-3 also heading into next Sunday night's clash with Denver. The two teams combined for the fewest possessions in an NFL game, 14, since 2008. Each team had the ball only seven times.