Chad Johnson "Ochocinco" Heading To Jail For 30 Days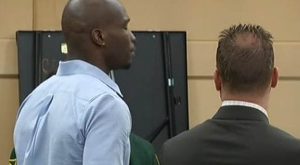 Chad Johnson, known as Ochocinco during his playing days, was sentenced to 30 days in prison Monday for violating his probation in relation to a domestic violence case. Johnson and his attorney, Adam Swickle, had negotiated an agreement with prosecutors to complete community service and counseling in lieu of any jail time.
The agreement went south when Johnson decided to resort to some of his on-field antics in the courtroom of Broward County (Fla.) Circuit Court Judge Kathleen McHugh. After McHugh asked the former Bengals and Patriots wide receiver if he was satisfied with the work of his lawyer, Johnson slapped Swickle on the rear, a gesture he routinely did on the football field. The courtroom erupted with laughter.
McHugh did not find the act funny commenting, "I don't know that you're taking this whole thing seriously." The judge slapped the plea agreement down on her desk and decided not to accept the agreement. Instead, McHugh, who could have sentenced Chad Johnson up to a year in prison, sentenced Johnson to 30 days of incarceration.
Chad Johnson did his best to apologize for his behavior, but it was no use. He was handcuffed and sent away to begin serving his sentence. Johnson had been signed by the Miami Dolphins prior to last season. His best years were from 2001 to 2010 which were spent in Cincinnati.
Johnson was a three-time All-Pro with the Bengals (2003, 2005, 2006) leading the AFC in receiving yards in each of those three seasons. He played the 2011 season with the New England Patriots and played in his first Super Bowl that season, a 21-17 loss to the New York Giants.
The original incident involved Johnson and his ex-wife, TV reality star Evelyn Lozada. Johnson pleaded no-contest to head-butting Lozada during an altercation last August. The couple was married for barely a month before they divorced. Lozada stars on VH1's Basketball Wives. She was previously engaged to NBA star Antoine Walker.
Most Recommended