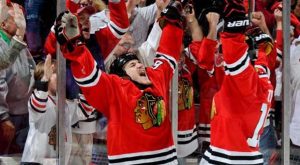 Trailing 2-1 with under two minutes to play, the Chicago Blackhawks figured they were headed back to Chicago for a decisive Game 7. And then Bryan Bickell tied the game at 2-2 with only 1:16 left on the score clock.
The Boston Bruins, who won Games 2 and 3 to take a 2-1 series lead, then figured they were headed for yet another overtime when, shortly after the goal that tied up the score, Dave Bolland scored the game-winner with 59 seconds to go. Those final seconds felt like an eternity, but Boston could not manage a goal to tie and the Blackhawks claimed their 2nd Stanley Cup in four seasons.
Chicago goalie Corey Crawford stopped 23 shots and Jonathan Toews returned from an injury to score a goal and add an assist as the Blackhawks won the first series between two of the Original Six teams since 1979.
After taking the 2-1 series lead, the Bruins lost three straight to the Chicago Blackhawks. Goalie Tuuka Rask stopped 28 shots but it wasn't enough to help Boston get to Game 7. The Bruins won it all just two years ago.
Patrick Kane was honored as the winner of the Conn Smythe Trophy, given annually to the most valuable player during the Stanley Cup playoffs. Kane led Chicago with 19 points - nine goals and 10 assists - in the 23 playoff games. He had three goals and two assists during the series with Boston.
It was a fitting end to a brilliant season for Chicago. The Blackhawks started the season with a 24-game unbeaten streak, going 21-0-3 in the process. They easily won the President's Trophy, which goes to the team with the best regular season record.
Bolland's goal at the 19:01 mark of the third period is now the latest cup-clinching score in regulation play in NHL history. The previous record was held by Bill Carson of Boston who had scored at 18:02 back in 1929.