Christian Ballard Walks Away From The NFL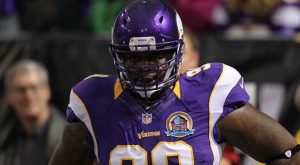 If you had the talent and made it to the league, enjoyed a nice signing bonus and a couple hundred thousand in salary, could you just walk away even though you're still capable of playing? Christian Ballard did.
Ballard, just 24 years of age, decided that he had enough of the NFL and its way of life. A fourth-round draft choice out of Iowa, Ballard was part of the Minnesota Vikings defensive line rotation ever since his rookie year. On August 19 of this year just prior to the start of the season, Ballard informed Vikings head coach Leslie Frazier that he was leaving.
Ballard, from Lawrence, Kans., felt that he wasn't living right and saw the NFL as part of the problem. "I wasn't really having a good time playing football," Ballard said. "It wasn't fun for me. It wasn't a blast for me."
The former Iowa star has had his share of ups and downs. Recently, he and his wife, Victoria Hallenbeck, were arrested for domestic battery after an argument. No charges were filed since neither Ballard nor Hallenbeck were injured physically.
Ballard, who goes 6-foot-4 and 283 pounds, is still working out at home in Lawrence and will not rule out a return to the league. For now, though, he is getting himself right. He is attending church once again after not doing so for four years. He is spending more time with his son, who will be 3 this December, and he is working on finishing the 15 credits needed for his undergraduate degree in art.
Coming from a very artistic family, Ballard plays the cello and the piano. He is very adept with oil pastels and can draw with the best of them. His late uncle, Hank Ballard, recorded "The Twist" before it became a big hit when Chubby Checker released his version.
Whatever Christian Ballard decides to do, it will be of his own free will. "It (the NFL) made me selfish," said Ballard. "I'm not sitting here saying I'm done forever. I've just got to reevaluate what I really want to do with my life." The Vikings placed Ballard on the reserve/left squad list back in August. They still own his rights should he decide to return.
Most Recommended