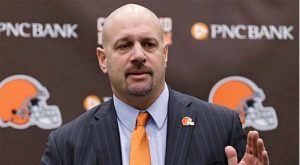 After a month of searching, the Cleveland Browns finally have a head coach. Mike Pettine, most recently the defensive coordinator for the Buffalo Bills, was named the 15th head coach in franchise history on Thursday.
After the Browns fired Rob Chudzinski after one season, Cleveland began a search that took it from Arizona defensive coordinator Todd Bowles to Denver offensive coordinator Adam Gase and many more. With each passing day, there seemed to be another candidate that spurned the Browns.
Bowles met with Browns officials shortly after Chudzinski's firing, but withdrew his name from consideration. Gase, one of the hotter young head coaching candidates in the league, was considered a favorite, but also withdrew his name from the hat just this week.
It seemed like no one wanted a job with a franchise that has had just three winning seasons since 1990. That is, until Pettine entered the picture. The former high school head coach in Pennsylvania had an initial interview with the organization in early January. He was asked back for a second round of talks last week and was identified as the favorite earlier this week.
Pettine, whose father was a legendary high school head coach, made the jump from high school to the NFL in 2002, when he took on a quality control role with the Baltimore Ravens. He was elevated to a position coach the following year by then-defensive coordinator Rex Ryan. Pettine became Ryan's go-to guy and when Ryan took the head coaching job in New York, Pettine followed as his defensive coordinator.
When Pettine's contract was up in Baltimore at the end of the 2012 season, he was signed by the Bills in the same capacity. Each of his defenses has finished in the top ten in most statistical categories. His 2009 Jets had the No. 1-ranked defense in the league. Last season, the Bills were second in the NFL in sacks with 57.
Pettine enters a rough situation as the Browns have not had much success since the late 1980s when Marty Schottenheimer was the head coach. If Pettine can assemble the type of attacking defense that he is known for, he may be able to stay around in Cleveland longer than Chudzinski.