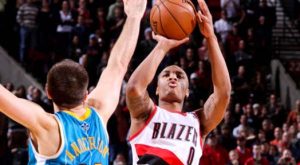 Portland Trail Blazers point guard Damian Lillard will be busy on All-Star weekend. The second-year pro will become the first player in NBA history to take part in five event during next weekend's All-Star festivities.
Lillard will play in the Rising Stars Challenge, which features first- and second-year players who are selected by the NBA's assistant coaches, on Friday. On Saturday, he will compete in the Skills Challenge, the 3-point shooting contest, and the marquee event, the slam dunk contest. Lillard will then represent the Trail Blazers as a member of the Western Conference All-Star team in Sunday's All-Star game.
A 6-foot-3-inch guard out of Weber State, Lillard is one of the big reasons why Portland is currently third in the Western Conference standings. The Trail Blazers are just four games behind conference-leading Oklahoma City and a half-game behind second place San Antonio. Lillard is scoring 20.6 points and dishing out 5.7 assists per game.
A native of Oakland, California, Lillard was a virtual unknown in the college basketball world. He was twice the Big Sky Player of the Year and then, as a senior, averaged 24.5 points, 5 rebounds and 4 assists per game. He was selected as a third-team All-American by the Associated Press. He also caught the eye of NBA scouts.
Portland drafted Lillard with the sixth pick in the first round of the 2012 NBA Draft. The Trail Blazers knew they had something special when Lillard scored 23 points and had 11 assists in his very first game. Only two other players in NBA history had more than 20 points and 10 assists in their NBA debuts – Isiah Thomas and Oscar Robertson.
Lillard would go on to average 19.0 points and 6.5 assists per game last season. He was the unanimous choice for the NBA's Rookie of the Year.