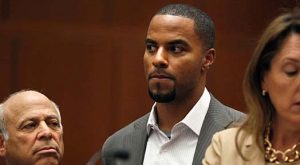 Former NFL All-Pro Darren Sharper was charged with two counts of rape using drugs in a Los Angeles courtroom on Friday. The charges against Sharper also included five other felonies.
The ex-NFL safety met two women at a nightclub in West Hollywood back on Oct. 30 and then invited them to a party. Sharper asked the pair to stop at his hotel room before continuing to the party. He gave both women something to drink.
The women passed out and one awoke to find herself naked with Sharper sexually assaulting her. The other woke up and witnessed Sharper committing the assault. The women left the hotel and immediately went to a local medical facility to be examined.
Prosecutors claim that Sharper's "game" is pretty simple. He meets women, invites them to parties but instead takes them back to a hotel, and then offers them something to drink. The women eventually pass out allowing Sharper to do as he pleases.
The former Green Bay draft choice was arrested on Jan. 17 in connection with the two rapes. He posted the $200,000 bail and was released. He is being investigated for another similar incident that occurred three days prior to his arrest. Allegedly, Sharper met two women, took them back to a hotel, and assaulted them.
Sharper is also under investigation for raping women in three other states: Louisiana, Nevada, and Arizona. Los Angeles prosecutors are asking a judge to increase the bail for Sharper to $10 million because of the serial nature of his crimes. A woman in New Orleans claims that Sharper did the same thing to her – drugged her and sexually assaulted her.
Along with the two counts of rape using drugs, Sharper was also charged with four counts of supplying a controlled substance and a single count of possession of a controlled substance. The controlled substances used by Sharper were morphine and zolpidem, known more commonly as Ambien.
If convicted, Sharper faces 30 years or more in a state prison.