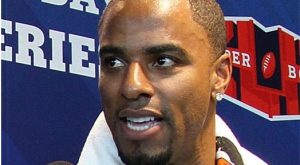 Darren Sharper, who played 14 seasons in the NFL for three different teams, was arrested Friday in Los Angeles. It is believed that Sharper was involved in three separate sexual assaults. He was booked by the Los Angeles Police Department and later released just before midnight on a $200,000 bond.
The LAPD is investigating two incidents of sexual assault in the Los Angeles area to which Sharper is connected. Sharper is also being investigated by the New Orleans Police Department for a sexual assault that was filed against the former NFL star back on Sept. 24. Remi Braden, a representative of the NOPD, reported that Sharper is currently under investigation, but no charges have been filed as of yet.
Since retiring from the game just before the start of the 2011 season, Sharper has been working as an analyst on the NFL Network. When the network learned of the arrest, Sharper was immediately placed on suspension without pay. Alex Riethmiller, a spokesperson for NFL Network, made the announcement. The network would not make any further comments regarding Sharper's situation.
Sharper, who played his college football at William & Mary, was a second-round draft choice of the Green Bay Packers back in 1997. He played in 14 games as a rookie and helped lead the Packers to Super Bowl XXXII. Sharper became a starter in his second season and developed into one of the league's best safeties.
In 2005, Sharper signed with Minnesota and eventually found his way to New Orleans in 2009. It was after that season that the Saints would win the Super Bowl. Sharper would be named to the Pro Bowl five times and was a six-time All-Pro. He finished his career with 63 interceptions.
Sharper, 38, ran into injury problems in 2010. He missed the first six games that season and later missed two more. Even so, he was named a second-team All-Pro. After tryouts with three teams prior to the 2011 season, Sharper failed to land a contract and opted for retirement.
The NFL 2000s All-Decade team member will have a Feb. 14 court date for the two sexual assault charges in Los Angeles.