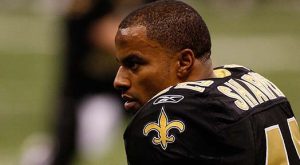 Police in New Orleans issued an arrest warrant for Darren Sharper, the former NFL safety who just this month was charged in Los Angeles on two counts of rape. A warrant was also issued for Erik Nunez, 26, an acquaintance of Sharper's.
New Orleans police allege that Sharper and Nunez raped two women in an apartment in the city back in September of 2013. This news comes after Sharper was just charged with seven felonies in Los Angeles. He faces two counts of rape with the use of drugs and five other drug charges.
If convicted in Louisiana, Sharper faces life in prison. Under Louisiana law, anyone found guilty of aggravated rape will serve life in prison with hard labor. Sharper is already facing up to 30 years in jail for the Los Angeles rapes.
The former All-Pro is also under investigation in Arizona, Nevada, and Florida. Police in Tempe, Ariz., say they are very close to filing charges against Sharper. A spokesperson for the Tempe police said that they are waiting for results from their crime lab and will be ready to proceed soon.
Last month in Florida, a woman filed a sexual battery complaint against Sharper related to an incident that occurred late in 2012. The woman and two of her friends met Sharper at a Miami Beach nightclub. The three women went with Sharper to his condo where the woman alleges the battery took place. Miami police are continuing their investigation.
Sharper's attorneys have denied all allegations of rape stating that all of the incidents in question were consensual. The judge in the Los Angeles case just recently upped Sharper's bail from $200,000 to $1 million and added stipulations. Sharper is not permitted to leave Los Angeles County and is not permitted in any night clubs. He is also not to be in the company of any female that he did not know prior to Oct. 30, 2013 (when the incidents in L.A. occurred).
Sharper played 14 seasons in the NFL and was a five-time selection to the Pro Bowl and a six-time All-Pro. He won a Super Bowl with the New Orleans Saints and had been working as an analyst with the NFL Network. After the L.A. incident, Sharper was immediately suspended without pay.