Seahawks Hold On, Patriots Pound Colts In NFL Playoff Action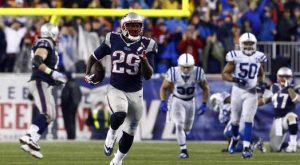 Seattle dominated New Orleans for much of the game then fended off a late rally for a 23-15 win and New England's ground game pounded Indianapolis as the Patriots won 43-22 in the Divisional NFL Playoff action on Saturday.
The Seahawks held New Orleans scoreless through three quarters and built a 16-0 lead on three Steven Hauschka field goals and a 15-yard run by running back Marshawn Lynch. New Orleans found a way to get back in it, though, as the Seattle offense struggled in the second half.
Seattle QB Russell Wilson, who finished the game 9-fo-18 for 103 yards, did not complete a pass in third quarter as the Seahawks offense sputtered. The yardage total was a career low for Wilson. New Orleans held Seattle to just 277 total yards for the game.
What the Saints couldn't stop, though, was Lynch. A year after the former Cal star burnt the Saints with a monster 67-yard run, Lynch carried 28 times for a franchise playoff record 140 yards and two touchdowns. His 31-yard TD run with just 2:40 left to play in the game sealed the victory.
The Saints did get back into it when QB Drew Brees led an 80-yard drive and Khiry Robinson scored on a 1-yard turn early in the fourth quarter. After Lynch's second TD, Brees led the Saints on a 74-yard drive capped by a 9-yard TD pass to Marques Colston with just 26 seconds remaining. The Saints recovered the ensuing onside kick, but failed to score as time ran out.
In the AFC, New England relied heavily on RB LeGarrette Blount, who rushed 24 times for 166 yards and four touchdowns. He scored on a pair of 2-yard runs in the first quarter as the Patriots built an early 14-0 lead. His 73-yard scamper early in the fourth quarter gave the Pats a 14-lead and put the game out of reach.
The Colts and second-year QB Andrew Luck battled and stayed in the game for most of three quarters. Luck's 35-yard TD pass to LaVon Brazill late in the third quarter brought the Colts within a touchdown at 29-22.
Luck would finish 20-of-41 for 331 yards and two touchdowns, but he was sacked three times and threw four costly interceptions. His first pick was returned by Alfonzo Dennard to the Colts' two-yard line and set up Blount's first TD.
Luck's counterpart, Tom Brady, connected on 13-of-25 passes for 198 yards. He did not throw an interception or a TD pass. Brady didn't need to as the Patriots, led by Blount, rushed for 234 yards.
Most Recommended