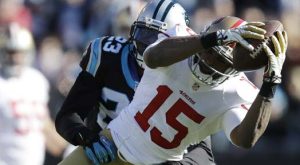 NFL Playoffs - AFC Divisional Round
Baltimore 38, Denver 35 2 OT
Ray Lewis' stellar 17-year career was seemingly over, but Ravens' QB Joe Flacco penciled himself into NFL playoff lore with a 70-yard touchdown pass to Jacoby Jones with just 31 seconds remaining to help extend the career of possibly the game's greatest linebacker. Flacco's throw allowed Baltimore to tie Denver and then Justin Tucker connected on a 47-yard field goal less than two minutes into the second overtime to advance the Ravens to next weekend's AFC championship.
The Broncos started quickly with diminutive Trindon Holliday returning a punt 90 yards for a touchdown early in the game. Holliday returned the second half kickoff 104 yards for a TD to become the first player in NFL history to have punt and kick return touchdowns in the same postseason game.
But for every Broncos touchdown, the Ravens had an answer. Flacco finished 18-for-34 for 331 yards and three touchdowns. Ray Rice led the Ravens' ground game gaining 131 yards on 30 carries. Rice scored on a one-yard run to tie the game at 28-28 at the end of the third quarter.
New England 41, Houston 28
Although the Houston Texans played much better than in their loss to the Patriots last month, QB Tom Brady still became the winningest quarterback in postseason play throwing for three touchdowns in leading the Patriots to victory and a spot in next week's AFC championship.
Brady finished 25-for-40 for 344 yards with two of the touchdowns going to little-used Shane Vereen. The Patriots' defense held the Texans to just 91 yards rushing, 90 by RB Arian Foster. Houston opened the game with a 27-yard Shayne Graham field goal but fell behind 17-3 in the second quarter after the first of Vereen's two TD receptions.
Houston battled back to within four, 17-13, at halftime, but New England blew the game open in the third quarter. Stevan Ridley's eight-yard run and a five-yard TD pass from Brady to Brandon Lloyd gave the Pats a 31-13 lead. Vereen then caught his second TD pass early in the fourth quarter and the game was all but out of reach.
The Patriots will host Baltimore next week. It will be head coach Bill Belichick's seventh conference championship game which ties him for second-most among head coaches.
NFL Playoffs - NFC Divisional Round
San Francisco 45, Green Bay 31
The Green Bay Packers just did not have an answer for 49ers QB Colin Kaepernick. The gangly rookie threw for 263 yards and torched the Packers' defense for 181 yards rushing and two touchdowns. The rushing yardage established a new record for quarterbacks in a playoff game.
The Packers led 14-7 at the end of the first quarter but two Kaepernick to Michael Crabtree TD passes and a David Akers 36-yard field goal gave the 49ers a 24-21 halftime advantage. Then the University of Nevada rookie took over and ran 56 yards for a touchdown. Touchdowns by RB Frank Gore and Anthony Dixon broke the game open and the Packers were never again in it.
It will be the first time since 1992-94 that the 49ers will play in back-to-back NFC title games. SF won the '94 game in what was their last trip to the Super Bowl. The 49ers defense held Green Bay to just 104 yards rushing. Last year's league MVP Aaron Rodgers finished 26-of-39 for 257 yards and two touchdowns. San Francisco will travel to Atlanta next week for the NFC championship.
Atlanta 30, Seattle 28
After almost squandering a 20-point lead and facing a fourth straight early exit from the NFC playoffs, Matt Bryant's 49-yard field goal gave the Atlanta Falcons the win and a berth in the NFC championship next week against San Francisco.
Behind two Bryant field goals and two Matt Ryan touchdown passes, the Falcons had built a 20-0 halftime lead. Seattle rookie phenom QB Russell Wilson wouldn't let the Seahawks fold and threw two TD passes and ran for a score to put the Seahawks within six points with nine minutes remaining. Wilson would lead Seattle to the Falcons' two-yard line where RB Marshawn Lynch punched the ball into the end zone with just 31 seconds left for the apparent victory.
Ryan, who was 24-for-35 for 250 yards and three touchdowns, was not going down easily and completed a 29-yard pass to Harry Douglas and then a 19-yarder to future Hall-of-Famer TE Tony Gonzalez to put the Falcons in position for Bryant's game winning field goal.
Wilson finished 24-for-36 with 385 yards passing and two touchdowns. The Falcons' Michael Turner led all rushers with 98 yards on 14 carries and rookie Jacquizz Rodgers added 64 on 10 rushes.