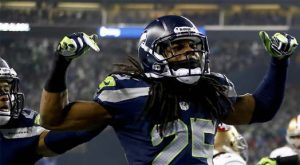 The Seattle Seahawks were certainly newsworthy after their 23-17 victory over San Francisco in the NFC Championship game Sunday. The win gives the franchise their second opportunity to play in the Super Bowl, yet somewhat more newsworthy was the post-game rant that Richard Sherman went on about 49ers receiver Michael Crabtree.
Sherman apologized Monday about targeting Crabtree in his post-game interview with Fox's Erin Andrews. The Seahawks cornerback apologized for attacking an individual and taking attention away from the win and his teammates.
With the game on the line and San Francisco driving for a potential game-tying score, 49ers QB Colin Kaepernick tried to find Crabtree in the end zone. Sherman deflected the pass away and linebacker Malcolm Smith made the interception that sealed the victory with 22 seconds remaining in the game.
After the interception, Sherman ran past Crabtree and slapped him on the backside and extended a hand as if to shake hands with the San Francisco receiver. Crabtree pushed him away and Sherman went on to draw a personal foul for making the choke symbol.
Fox's Andrews then approached Sherman for a quick on-field post-game interview. Sherman went on to attack Crabtree and explain that when you put a mediocre receiver on him, the results will not be good for a Seahawks opponent. As Sherman continued his tirade, Fox cut away from the interview.
Sherman, who played collegiately at Stanford, led the NFL with eight interceptions this year. He now has 20 for his career. In three seasons in the league, he has been named to the Pro Bowl twice and a first-team All-Pro twice. Sherman is part of the Seahawks "Legion of Boom" secondary that also includes cornerback Byron Maxwell, free safety Earl Thomas, and strong safety Kam Chancellor. The Seahawks secondary is known for its big hits and for leading the NFL in pass defense.