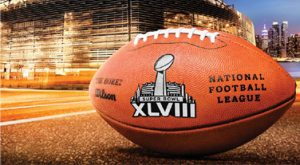 Denver QB Peyton Manning will get another shot at a Super Bowl ring and the Seattle Seahawks return for just the second time in franchise history. The Broncos and Seahawks will square off against each other in Super Bowl XLVIII after winning yesterday's AFC and NFC championship games.
Manning was masterful in leading Denver to a 26-16 win over his rival, Tom Brady, and the New England Patriots. Manning completed 32-of-43 passes for 400 yards and two touchdowns. He did not throw an interception and was not sacked. Manning and Denver offensive coordinator Adam Gase threw the Patriots a wrinkle. They slowed the pace of their no-huddle offense and the results were evident.
Manning led Denver on two seven-minute-plus drives and they controlled the ball for almost 36 minutes of the game. The Broncos took the second half kickoff leading 13-3 and drove 80 yards in 7:02 to go up 20-3. New England ran just 56 offensive plays in the game, many of which were in the Patriots final two drives as they attempted to rally.
With the win, Manning becomes just the second QB in league history to start two Super Bowls with two different teams. Craig Morton, a former Bronco himself, was the other. Manning will be the second-oldest QB to start a Super Bowl. The oldest was current Broncos excecutive vice president John Elway.
The Broncos will take on the Seahawks who forced three fourth quarter turnovers in their 23-17 win over San Francisco. Trailing 10-3 at the half, Seattle got a 40-yard TD run from Marshawn Lynch to tie the game. The 49ers answered, though, on a 26-yard scoring pass from Colin Kaepernick to Anquan Boldin.
Seattle QB Russell Wilson, who finished 16-of-25 for 215 yards, hit Jermaine Kearse for a for a 35-yard touchdown early in the fourth quarter. The Seahawks took the lead and command of the game. Kam Chancellor picked off Kaepernick which led to Steven Hauschka's 47-yard field with just 3:37 to play.
As San Francisco mounted a drive to potentially tie the game, Malcolm Smith intercepted a deflected Kaepernick pass with just 22 seconds to play to seal the victory. Kaepernick struggled in the second half and finished with just 153 yards passing, although he did rush 11 times for 130 yards.
It will be just the second trip to the big game for Seattle. They were beaten by Pittsburgh in Super Bowl XL. Denver has had six previous trips and has won two. Both of those wins came with Elway at QB.