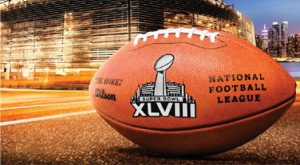 The Denver Broncos have the opportunity to make history. So does Peyton Manning. And the Seattle Seahawks can make some history of their own should they be able to stop Manning and the Broncos.
The NFL's ultimate game gets underway tomorrow from MetLife Stadium in East Rutherford, N.J. Super Bowl XLVIII is making history since it will be the first outdoor title game played in a cold weather environment. There had been plenty of concern that the area would be hit with a winter storm on Super Bowl Sunday, but so far it appears that, while temperatures will be cold, the snow will stay away.
Manning, who has enjoyed his best season ever, can become the first quarterback in NFL history to lead two different teams to Super Bowl victories. He did it with Indianapolis in Super Bowl XLI, when he was also named the game's MVP. Only Craig Morton, who ironically was a Bronco, and Kurt Warner have ever played in Super Bowl's with two different teams. Neither, of course, was able to win both games in different uniforms.
The Broncos are now tied with New England with seven Super Bowl appearances. They are just one shy of both Pittsburgh and Dallas, who each have appeared eight times. A win on Sunday would move Denver into a more elite group that includes Green Bay, the New York Giants, Oakland, Washington, and New England. All have three Super Bowl wins.
The task for Seattle is fairly simple. Stop Peyton Manning. Win. The Seahawks have the league's best defense. They are the only defense in the NFL that allowed teams less than 300 yards of offense per game. Cornerback Richard Sherman has received a lot of media attention for his antics at the end of the NFC Championship game. But, the bottom line is, he is good. His teammates are good. The Seahawks defense is good and if they stop Peyton Manning, they win.
Should the Seahawks pull the upset (the Broncos are favored), they would make history of their own. It would be the franchise's first Super Bowl victory. The game gets underway with a 6:30 pm. ET kickoff and will be broadcast by FOX.