NFL Combine is Underway in Indianapolis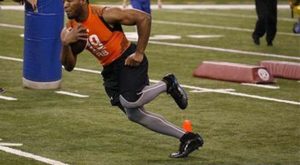 The futures of more than 300 of the top professional football prospects hang in the balance as the annual NFL Combine gets underway on Wednesday from the Lucas Oil Stadium in Indianapolis.
The athletes in attendance, by invitation only, will perform various physical and mental tests in front of NFL coaches, general managers, and scouts. The results of such tests go a long way in determining when, and if, a player will be drafted. A player's draft position will have a direct impact on his salary, status, and, ultimately, his career in the NFL.
The combine was the brainchild of former Dallas Cowboys president and GM, Tex Schramm. Schramm proposed a centralized evaluation process where NFL teams could come together and judge the talent pool for that year's draft. Prior to 1982, teams would schedule individual visits with players in which they had an interest.
The National Invitation Camp and the BLESTO and Quadra scouting organizations merged in 1985 and the NFL Combine was born. The event as we know it today was held in Indianapolis for the first time in 1987 and has remained there ever since.
A prospective NFL player's dreams of playing the league come down, for the most part, to his results in tests such as the 40-yard dash, vertical jump, and bench press as well as his score on the popular cognitive ability test, the Wonderlic. Many question whether or not the tests predict future success in the league. For example, Jerry Rice, considered to be the greatest wide receiver of all-time, reportedly ran the 40-yard dash in 4.7 seconds coming out of college.
Whether or not the workouts at the combine have anything to do with success in the NFL, the athletes who were invited understand the importance of their performance while there. And, for the many NFL fans with nothing to do in the off-season, the NFL Network will cover the entire combine and give those fans something to be excited about until pre-season camps roll around at the end of July.
Most Recommended