Seattle Whips Denver To Claim Super Bowl XLVIII Championship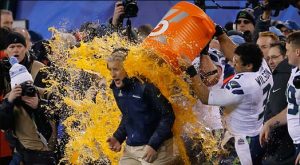 In a battle of the NFL's best defense versus the best offense, the defense prevailed as Seattle held Denver to 27 yards rushing en route to a 43-8 demolition of the Broncos in Super Bowl XLVIII.
For Denver QB Peyton Manning, who was named the league's Most Valuable Player on Saturday night, it was not meant to be. On the game's first play from scrimmage, center Manny Ramirez snapped the ball as Manning was calling his cadence and the ball flew into the end zone where it was recovered by running back Knowshon Moreno. The safety gave Seattle a 2-0 lead just 12 seconds into the game.
On the ensuing drive, Seahawks QB Russell Wilson led the Seattle offense into scoring position and kicker Steven Hauschka kicked the first of his two field goals for a 5-0 lead. Wilson would end up completing 70 percent of his passes (18-for-25) for 206 yards and two touchdowns. He did not throw an interception and was not sacked.
Manning just never could get anything going and when he did, the Seattle defense came through with big plays. Manning missed on a third down throw to Julius Thomas. The ball went high and Seahawks safety Kam Chancellor intercepted. Running back Marshawn Lynch would eventually score on a 1-yard run.
Then disaster struck for the Broncos. Manning was hit by Seattle linebacker Cliff Avril and his pass wobbled into the arms of Malcolm Smith, who returned the interception 69 yards for a touchdown. It was Smith who intercepted the pass that sealed the Seahawks victory in the NFC Championship game. Smith's touchdown put Seattle ahead 22-0.
If that wasn't enough, Percy Harvin took the second half kickoff and returned it 87 yards for a touchdown to open the second half. After Jermaine Kearse's 23-yard TD reception from Wilson, the game was clearly Seattle's. Denver would get on the board on a 14-yard scoring toss from Manning to WR Demaryious Thomas. Thomas was one of the few bright spots for Denver catching 13 passes for 118 yards.
The win was the first Super Bowl victory for the Seattle franchise. It was also a great victory for head coach Pete Carroll. Fired by the Jets in 1994 and by the Patriots just a few years later, Carroll becomes just the third coach to win an NCAA national championship and a Super Bowl.
Smith became just the third linebacker to win the game's Most Valuable Player award. Along with the interception return for a TD, Smith also recovered a fumble, and had 10 total tackles. He is just the eighth defensive player to win the Super Bowl MVP, which was fitting for the Seahawks who have won all year with defense.
Most Recommended