First of the Sandusky Victims Settles With Penn State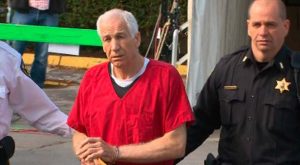 The first of what is sure to be many settlements involving the Jerry Sandusky victims of former Penn State football coach has been settled. The civil claim, involving "Victim 5," was the first civil claim against the university to be settled. The total amount of the settlement has not been divulged but is reportedly worth several million dollars.
The attorney for Victim 5 reported that the settlement was completed as of Saturday. Victim 5 testified during the trial of Sandusky, who was convicted of 45 criminal counts involving child sexual abuse. Names of victims of sexual abuse are not normally released by the Associated Press.
Victim 5's case is the first of 26 settlement cases that are expected to happen very soon. There are 31 young men who have been seeking claims against the university over the actions of Sandusky.
Michael Rozen, an attorney brought in by Penn State to help resolve these civil claims, stated that the major issue in dealing with these cases is where incidents occurred and when they occurred in relation to the 2001 shower incident.
The university said over a year ago that it wanted to compensate all of the Sandusky victims quickly and fairly. Victim 5 is the first. Penn State has authorized somewhere in the neighborhood of $60 million to be used for the settlements.
Sandusky is now serving a 30- to 60-year sentence as a result of his convictions for child molestation and related offenses. He spent over three decades at Penn State as a player and coach for Joe Paterno. Many of his victims came through his charity for at-risk youth, Second Mile, which he started in 1977.
The first complaint about Sandusky came in 1998 for showering with a young boy. No charges were ever filed after a university investigation. In 2001 then graduate assistant Mike McQueary witnessed another shower incident. He reported the incident to Paterno who later informed other higher-ranking school officials.
Most Recommended