Giants Even The World Series With Late Rally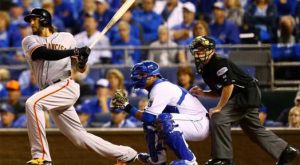 Trailing two games to one entering Saturday night's World Series matchup, San Francisco appeared to be headed closer to elimination when Kansas City put up four runs in the top of the third inning. The Giants, however, erupted for 10 unanswered runs to even the series at 2-2 with an 11-4 victory in San Francisco.
Kansas City looked as if it was headed to a two-game lead as the Royals took advantage of Giants pitcher Ryan Vogelsong in the third inning. With runners at first and third and two out, Vogelsong failed to step on first after taking a throw from Brandon Belt that would have ended the inning.
Instead, Alex Gordon scored and the Royals still had two base runners. After Mike Moustakas walked, Vogelsong gave up a two-run single to Omar Infante and a single to catcher Salvador Perez that scored Moustakas. The Royals took a commanding 4-1 lead, but would not score again.
The Giants pecked away at the Kansas City lead getting a Buster Posey RBI single in the bottom of the third inning and then tied the game in the fifth when Hunter Pence singled to center to score Joe Panik and Pence scored on Juan Perez's sacrifice fly.
San Francisco then blew the game open with seven more runs in the sixth and seventh innings. It was 2012 World Series MVP Pablo Sandoval who drove in two runs with a single to center to break the tie. Belt followed with another single and Belt scored.
In the seventh, the Giants took advantage of an error by Kansas City pitcher Tim Collins and doubles by Panik and Pence to put up four more runs.
Yusmeiro Petit pitched three scoreless innings to record the win for San Francisco. Petit has not allowed a run in 12 innings of postseason relief appearances. Even though Vogelsong lasted just 2 2/3 innings, the Giants are 6-0 in the postseason when he starts a game.
The two teams meet again Sunday night in San Francisco. The pitching matchup will be a rematch of the series' opener. Madison Bumgarner, who is 3-1 with a 1.40 ERA in the postseason this year, will start for the Giants against Kansas City's James Shields.
Most Recommended