Training Gold Medal Center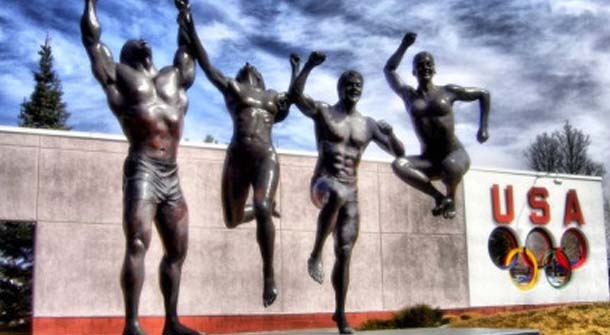 It takes a special kind of training center to create an Olympic athlete. The Colorado Springs U.S. Olympic Training Center –the U.S.'s first Olympic training center and the home of the Olympic Committee Headquarters—houses many of the nation's best and brightest up-and-coming athletes with eyes on the ultimate prize: Olympic Glory.
Winter Olympics Training Academy in Colorado Springs
Once the home of the ENT Air Force Base, the Colorado Springs U.S. Olympic Center, or CSOTC, now features two giant Olympic Sport Centers with multi-purpose gyms, where Olympic hopefuls can train for swimming, water polo, gymnastics, track-and-field, weightlifting, shooting, boxing, cycling, volleyball, tennis, wrestling, fencing, and more. The Center houses an average of 145 athletes at any given time, and is designed to accommodate roughly 550 coaches and athletes. The facilities are open for free public tours, and visitors can catch a glimpse of some of the world's best talent as they train.
So what's it like to live and train at the CSOTC?
Resident athletes live in furnished dorm rooms complete with cable TV, internet access and free laundry service.
Athletes train at different schedules and intervals depending on their specific sport. However in general, they spend up to 12 hours cross training with specialized coaches Monday through Saturday. Sundays are days of rest for the athletes.
Athletes can complement their regular training with conditioning and muscle building at the Strength Training Center. They can also receive medical care at the Sports Medicine Center, and get much-needed massages, nutritional support and physical therapy at the Recovery Center.
Intense training makes for huge appetites. The dining hall offers unlimited healthy food throughout the day to accommodate the training schedules and dietary needs of each athlete.
Life at the CSOTC
Life at the CSOTC isn't all training and hard work. In their downtime, athletes can watch TV, play X-Box games, study at the library, watch DVDs, or play pool or foosball. The CSOTC's Athlete Service Center also offers coordinated social events like proms, holiday parties, movie nights, game tournaments, language classes and field trips. Athletes can also participate in classes, seminars and programs specially designed to support the unique lifestyles of elite athletes and help them build life skills that will serve them in their athletic careers and beyond.
Athletes are encouraged to give back to their community by participating in cultural and charitable events. The CSOTC offers opportunities to volunteer with agencies like Habitat for Humanity, the Ronald McDonald House and the Make-A-Wish Foundation, as well as opportunities for speaking engagements at local hospitals and schools.
Most Recommended