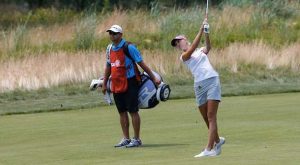 Twenty-year-old professional golfer Jessica Korda was midway through the 3rd round at the U.S. Women's Open when she decided that she'd had enough. Korda, who shot a 40 on the front nine Saturday, fired her caddie, Jason Gilroyed.
It is unsure exactly what happened, but the two argued after Korda's first nine holes at Sebonack Golf Club in Southampton, N.Y. After the argument, Gilroyed was unemployed, Korda grabbed her boyfriend out of the crowd to finish final nine holes.
Jessica Korda joined the LPGA Tour in 2011 at age 17. She has one professional win. In the first event of the 2012 season, Korda won the Women's Australian Open. She had to win a six-person playoff in order to claim the victory.
She is the daughter of Petr Korda and Regina Rajchrtova two retired professional tennis players. Her father, Petr, had been her caddie during the early part of her career. The younger Korda stated that her father really doesn't want to but would step in and caddie if needed. The elder Korda actually caddied the Open for Jessica's younger sister, Nelly, the youngest player in the tournament at age 14.
For the final nine holes on Saturday, Jessica Korda's boyfriend Johnny DelPrete went from spectator to active participant replacing Gilroyed. After the change, Korda went on to shoot a 1-under par 36, finishing the day at 76. She was tied for sixth at 1-over, 11 strokes behind the leader Inbee Park.
DelPrete is actually a professional golfer, having played on the Web.com Tour in 2012. He will continue to caddie for Sunday's final round. After the Open, Koda will search for a new caddie since DelPrete is not a long-term option.
Jessica Korda's ordeal is the second public golfer-caddie struggle in the past two weeks. During the Travelers Championship last week, Bubba Watson went off on a tirade screaming at his caddie after making a triple-bogey on the 16th hole.