Harvard Leads Thursday's Upsets in NCAA Tourney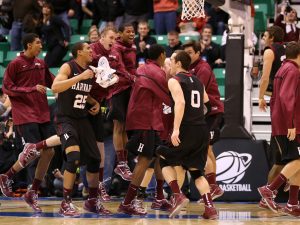 It was the Harvard's first-ever win in the NCAA tourney and it was a big one. Wesley Saunders, a 6-foot-5-inch sophomore, scored 18 points to lead the Crimson to a stunning 68-62 victory over No. 3-seeded New Mexico. Coach Steve Alford's Lobos were never really in the game as Harvard made eight three-pointers to New Mexico's three.
Oregon pulled another of the day's big upsets with a 68-55 win over fifth-seeded Oklahoma State. Freshman Damyean Dotson scored 17 points and Dominic Artis added 13 and four steals. The Ducks were a surprise 12th-seed after finishing tied for second in the Pac-12 and winning the league tournament.
Cal, a No. 12 seed, pulled an upset beating fifth-seed UNLV, 64-61, to avenge an early season loss. Allen Crabbe had 19 points and nine rebounds and the Bears held UNLV scoreless for over 11 minutes in the second half.
Marquette went to work on defense shutting down Davidson over the final five minutes of play to escape with a 59-58 win in the best game of Thursday's March Madness. Vander Blue's driving layup in the final seconds sealed the win. Blue finished with 16 points, including seven of Marquette's final 10 points.
Napolean Armstead scored 22 points and Cleanthony Early added 21 as Wichita State proved the Missouri Valley Conference was definitely worthy as the Shockers put a beating on the Pittsburgh Panthers, 73-55, in first round action in the NCAA men's basketball tournament. The Shockers forced 15 turnovers and held the Panthers' leading scorer, Trey Woodall, to just two points on 1-of-12 shooting.
Sim Bhullar, the 7-foot-5-inch mammoth that was supposed to provide a world of difficulty for St. Louis, turned out to be a non-factor as the Billikens won easily, 62-42, over New Mexico State. Dwayne Evans finished with 24 points as St. Louis used an up-tempo game to negate the effect of the Aggies' big man. The win was number 28, a school record, for St. Louis.
Valparaiso just didn't have an answer for the physical inside play of Michigan State's Derrick Nix who scored 23 points and had 15 rebounds as the Spartans advanced with a 65-54 win. Coach Tom Izzo's Spartans went on a 26-5 run in the first half and then cruised on to the easy victory.
Butler is a little more comfortable with its role as a favorite instead of an underdog as the Bulldogs held of feisty Bucknell, 68-56. Bucknell's Joe Willman led all scorers with 20 points and helped the Bison go up by six in the second half only to watch the sixth-seeded Bulldogs comeback and win. Butler has won 11 of its last 13 NCAA tournament games, with the only two losses coming in the 2010 and 2011 championship games.
Memphis held on to beat St. Mary's, 54-52, as the Gaels' Matthew Dellavedova's three-pointer missed badly as time expired. Point guard Joe Jackson led Memphis with 14 points.
Top-seeded Gonzaga escaped with a 64-58 win over Southern. Derick Beltran scored 21 points for the SWAC champions. Kelly Olynyk led Gonzaga with 21 points, 17 in the second half, and 10 rebounds.
Russ Smith poured in 23 points as No. 1 seed Louisville cruised to an easy 79-48 win over North Carolina A&T. The Cardinals set an NCAA tournament record with 20 steals in the game.
Michigan star Trey Burke went down with an injury, but Glenn Robinson III picked up the slack with 21 points and freshman Mitch McGary added 13 and nine rebounds to lead the Wolverines past South Dakota State, 71-56. Burke scored only six points but will be fine and ready to go in the second round Saturday.
Arizona used its huge size advantage and pounded Belmont, 81-64. Mark Lyons scored 23 points to lead the Wildcats. Virginia Commonwealth had little trouble with Akron winning 88-42 and Colorado State downed Missouri, 84-72. No. 4 seed Syracuse destroyed Montana, 81-34.
Most Recommended