High School Football Teaches Life Lessons In Utah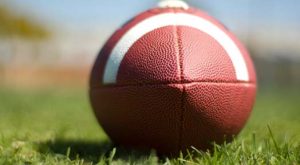 A week ago after a loss to Judge Memorial Catholic, Union High School football head coach Matt Labrum met with his players in the locker room. The result of that meeting shocked players, coaches, and has been creating quite a buzz around the nation.
Labrum was not happy with the actions of his players and after some soul-searching in that losing locker room decided to suspend his entire football team. He collected all of their jerseys and informed them that they would have to earn them back or the 2013 Union High football team would cease to exist.
There had been reports of players skipping classes, not achieving good grades, and supposedly engaging in cyber-bullying of another student. All of that led to Labrum's decision to right the ship. "I think the most important thing is that we build character," said Labrum.
After the jerseys and equipment were collected last Friday, the head coach gave each player a letter that dictated what would need to be done in order to earn back the honor to wear the jersey. There would be no discipline problems, players would be on time for all events (classes and practices), and each player would need to participate and complete a community service project.
Labrum expected some backlash from parents, players, and school administrators. Instead, his coaching staff, players' parents, and school administration stood behind him and offered their full support.
Players were involved in cleaning up a local senior center and got involved in activities with the seniors as well. The team was required to attend study halls in order to take care of their grades.
On Thursday, 32 of the 41 players had earned the privilege to wear their jersey once again. It was just in time for Friday night's homecoming game against Emery HS. It was not meant to be for Union as they lost to Emery, 41-21, but a very important life lesson was learned.
Most Recommended