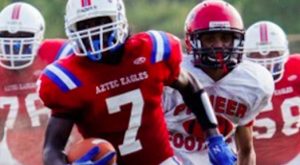 Nate Drew is not a character on Madden 2013 nor is he a roster choice for NCAA College Football 2013. Drew is a senior wide receiver for Cesar Chavez Academy near Detroit, Michigan. Last Friday, Drew, along with his quarterback Omar Salih, put on a video game-like performance in their 64-41 victory over Mayville HS.
Drew caught 17 passes and broke the national record for receiving yards in a single game with 459. Seven of his catches went for touchdowns.
Drew's QB, Salih, also turned in a stellar performance completing 32 of 52 passes for 689 yards and nine touchdowns. Both the yardage total and the number of touchdowns are new Michigan state records.
Salih and Drew were both named the U.S. Army All-American Bowl high school co-players of the week for their performances.
Drew has been nothing short of amazing this season. He has 127 receptions for 2,751 yards and 37 touchdowns…in seven games! He is averaging 18 catches per game and a jaw-dropping 393 yards receiving per game.
His lowest totals were in the season opener at Ida HS when Drew caught eight passes for 92 yards and one touchdown. The 6-foot-1, 175-pound receiver is deadly in open space. He has also produced four rushing touchdowns for a total of 41 on the season. Even with the amazing season he is having, Drew has received little interest from NCAA FBS programs. Only Pittsburgh and Syracuse have shown any interest thus far.
Cesar Chavez Academy is currently 3-4 on the season. They have two games remaining on their schedule – Westland Lutheran HS and Sterling Heights Parkway Christian.
The previous national record for receiving yards was 456 set by Kraig Pruett of Waldport, Ore., just last year. Mark Lozoya of Laredo-Alexander (TX) caught 17 passes for 454 yards earlier this season, just missing the national mark.