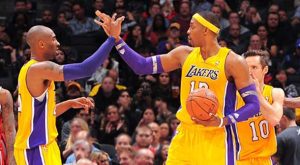 The players' salaries in the NBA is a subject which has been discussed thoroughly and with lots of criticism during the whole history of the league. Much buzz has been made for highly paid players during the CBA talks last summer, which resulted in a trimmed lockout season in 2011-2012. Let's take a look at who are the highest paid players in the NBA this season.
It's no surprise that on the top of the list we find the future hall of famer Kobe Bryant. He is earning the astronomical amount of $27,849,000 this season and he is also well above the next ones on the list. Is he really worth so much? Well, probably yes. He has earned the right to be considered one of the greatest players that have ever passed from the NBA in its entire history. Even at the age of 34, Kobe is still providing some huge performances for the LA Lakers and he is of course the leader of the team, even after the acquisition of All-Star center Dwight Howard and veteran point guard Steve Nash.
The 2011 NBA champion Dirk Nowitzki lies at the second spot of the list. His salary is estimated at $20,907,128. Despite being a unique 7-footer who can dribble like a point guard and shoot the ball like a guard specialist, Dirk is has not managed to attain his highest level of play this season. Of course he is a priceless piece for any team and after leading the Dallas Mavericks to a championship, he has earned even more respect from the basketball world.
Amar'e Stoudemire follows as the third most paid player currently in the league. His salary is $19,948,799 for this season and of course he has yet to prove he deserves it. After signing a mythical $100 million contract with the New York Knicks back in 2010, Amar'e has given the Knicks a lift at their prestige and also their rankings. But now, with Carmelo on the team, he has got to prove he is capable of leading New York to a championship.
Next one on the list is Joe Johnson. His payroll is $19,752,645. He has provided vital help to any team he has been and he continues to do so now at Brooklyn. Does he deserve to be the fourth highest paid in the NBA? It's a question with no particular answer.
Carmelo Anthony and Dwight Howard are next, with almost $19,500,000 each. Carmelo is having an excellent season so far and Howard has struggled due to some injuries and the bad performance of his team. A fellow Laker, Pau Gasol follows at the 7th spot with $19,000,000 and he also has not performed as well as the previous seasons.
Chris Paul is 8th with $17,779,458 and the best have yet to come for him and the LA Clippers.
Surprisingly or not, Lebron James is just 10th alongside Chris Bosh with $17,545,000 each. After accepting a smaller paycheck to form the Big Three, both Lebron and Bosh agreed to take less money in order to join Dwayne Wade and have an opportunity to build a dynasty and compete for a championship. So far, they seem to have made the best choice.