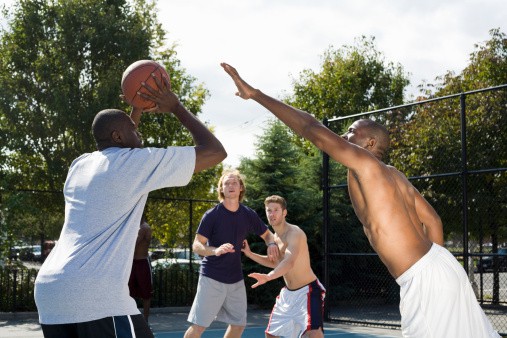 You don't need the NBA to enjoy basketball season. While those multimillionaires all work out their collective "issues" you can get back to what many say is the heart-and-soul of basketball – the college game. Yes, it's a little less polished and a little less glitzy, but it's also a thrilling back-and-forth game that often goes down to the wire and overtime – a treat NBA pros usually only save for us when playoffs roll around. Not up-to-speed on your college hoops? No worries – we'll give you a quick beginner's guide to get you started.
Why you should give college basketball a try
Style of play is a key difference between the pro and college games – quite simply, zone defense is completely and totally allowed in the NCAA; not some strange limited version of zone defense. As such, you'll see a lot more passing, play calling and strategy come in to the college game. Teams have to work together instead of hoping their superstars will get past their defenders.
Some say this slows down the speed of the game, but NCAA also plays two halves rather than four quarters and without the benefit of a deep bench of NBA players to relieve the starting lineup. Rules also come into play a bit more in the college game. Little differences like a close 3-point arc, a possession arrow rather than a jump ball, a slightly longer shot clock, and only five fouls before fouling out make for different strategic considerations by the coaches and players. Expect to see offensive resets and free-throw shooting to figure heavily into college games.
College Basketball Teams to Watch
As for teams to watch, there are always perennial favorites – University of Kentucky, Duke University, Gonzaga University, North Carolina University, Indiana University, University of Kansas, and Michigan State University... but popularity isn't necessarily an indicator of strength. In recent years, Ohio State University has been strong throughout the year, as have a number of teams in the South Eastern Conference (SEC) such as Florida, Vanderbilt and Tennessee and several from the Atlantic Coast Conference (ACC) including Maryland, Virginia and Georgia Tech.
West of the Mississippi there are strong teams at Texas, Arizona, UCLA, and San Diego State. You'll find that the coaches are some of the superstars in this arena – as players change often and require the support of a team to really achieve greatness. And whether it's your alma mater you choose to follow or you form an attachment to a big-name team, you'll find yourself hardly missing the NBA at all.