How to Get a Golf Workout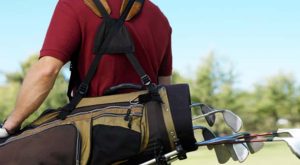 A great golf game can do a lot of things from helping you to unwind after a stressful week to helping you secure a business deal in a less "business type" setting, but for the most part it isn't exactly a great workout unless you take the time to make it one. If you're looking for ways to make your favorite pastime a little more workout friendly, pay attention to these 5 ways to get a golf workout while out on the greens.
The Golf Workout Breakdown
Ditch the Caddie
There is something to be said about having another guy carry your clubs that makes you feel like the cat's meow, but doing so greatly reduces the exercise that you will get from the game. Sure lugging those heavy clubs around is a good example of a golf workout, but that's the point – it helps to get your heart pumping and requires you to use your manly muscles to keep from dragging those suckers along the grass.
Leave the Cart at the Club House
Yes, a golf cart is every man's god given right when playing a game of golf, but don't be the type of lazy S.O.B. who lets that tiny cart chug feebly along with their ever expanding butt sitting pretty on the seat. Golf courses are big and by leaving the golf cart at the club house you will be able to increase your heart rate more for a longer period of time that can help you work off the added calories from the tasty meal and the beer you had for lunch at the club.
Use Your Wait Time to Get in a Bit More Exercise
When you're waiting to take your turn, use it in your favor. Do some stretches, walk around while you wait, run in place, etc. Just make sure you aren't standing there wasting time that could be put towards keeping your heart rate up, building your muscle strength and overall stamina.
Try to Improve Your Swing Form
This may seem like a non-sequitur, but improving you swing can help you stay fit. How? When you swing your club in the correct form you are using a variety of muscle groups and joints from your hips to your thigh muscles, abdominals, biceps and more. If you do it right, you are giving nearly your whole body a good stretch and increasing your muscles strength as you swing.
Stay Hydrated
Getting the right amount of water while you play can help to keep your energy levels up, help you to stay focused on the game/workout and keep your body from overworking itself when it is dehydrated. Bring a big water bottle with at least 16 to 24 ounces of water or a sports drink to ensure that you stay hydrated through the length of the game.
Most Recommended