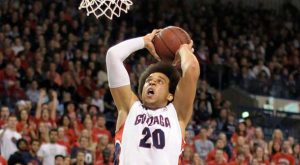 As college basketball fans awake on the this Selection Sunday, they await word of whether or not their team has made it into the field of 68, the Big Dance, the NCAA men's basketball tournament. Here is a look at the numbers, including 68, associated with March Madness.
0: The number of No. 16 seeds to ever win a first-round game against a No. 1 seed. It has never happened. Will this be the year?
1: The number of conferences that receive an automatic bid that do not play a conference tournament. Only the Ivy League does not play an end-of-season conference tournament. The regular season champion receives the automatic bid to the tournament.
4: Yes, there is the Final Four, but there is also the First Four. The First Four, which began in 2011, refers to the number of games played by the lowest four teams that receive an automatic bid to the tournament. These were formerly called "play-in" games.
7: The number of times a No. 2 seed has beaten a No. 15 seed in a first round game. It had never happened until 1991 when Richmond beat Syracuse. In 2012, two No. 15 seeds won in the first round. Norfolk State beat Missouri and Lehigh upset Duke. Last year, everybody's Cinderella, Florida Gulf Coast knocked off Georgetown.
8: The consecutive number of NCAA champions who have had blue in their uniform, prior to Louisville's win last season. Will this year be another blue or will red hold on?
27: The number of teams that, prior to play on Sunday, have already qualified for the NCAA tournament. All of these teams won their conference tournament and will receive an automatic bid to the Big Dance.
32: The number of teams selected to the NCAA tournament from 1975 to 1978. The field was expanded beginning in 1979 to 40 teams and continued to be expanded until 1985 when the field reached 64. The field remained at 64 until 2000.
68: This year's field will include 32 automatic bids from Division I conference tournament, and regular season, champions. There will be 36 at-large bids handed out.
The Selection Sunday show gets underway at 6 p.m. The NCAA tournament gets underway next Tuesday with the First Four and continues with coverage Thursday through Sunday.