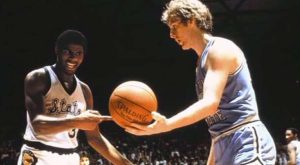 With the NCAA men's basketball tournament just around the corner, let's reflect on year's past and enjoy some of the greatest moments in the history of March Madness.
In the 1973 national championship game UCLA center Bill Walton put on one of the greatest single-game performances ever. Walton shot a near perfect 21-for-22 and scored 44 points to give the Bruins their seventh straight NCAA title with an 87-66 victory over Memphis.
In 1974 the UCLA basketball dynasty powered it's way to another Final Four but the Bruins would blow an eleven-point lead in the second half against North Carolina State. Coach John Wooden's Bruins would force two overtimes, but All-American guard David Thompson would lead the Wolfpack on a 13-2 run in the second extra session and give N.C. State an 80-77 win and end UCLA's streak of seven straight NCAA championships.
North Carolina defeated Michigan State 74-70 in triple overtime in the 1957 national semifinals and the next night had the unenviable task of facing the Kansas Jayhawks and star center Wilt Chamberlain. The Tar Heels ended up playing another triple overtime game and when Joe Quigg hit two free throws with just six seconds left in the third overtime, UNC had its first-ever national championship with a 54-53 win.
In what may have been the berth of "March Madness," Indiana State's Larry Bird and Michigan State's Earvin "Magic" Johnson, square off in the title game. It was a highly anticipated match-up, but Johnson's Spartans got the better of Bird's Sycamores as Bird hit just seven of 21 shots in a 75-64 MSU win. Johnson would score 23 and the "Magic-Bird" rivalry was born.
One of the great lasting memories of March Madness is the late coach Jim Valvano's rush to the floor after his N.C. State Wolfpack pulled off one of the great upsets in the history of the tourney, a 54-52 victory over the "Phi Slamma Jammas" of Houston. With the score tied, guard Derrick Whittenburg launched a desperation 30-foot shot only to see teammate Lorenzo Charles grab the errant attempt and dunk it as time expired for the win. The win was the fourth of the tournament for the Wolfpack where they had to come from behind in the second-half to earn victory.