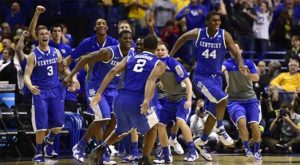 It was the mid-1980s when the term "March Madness" was coined. It is the perfect description of what happened Thursday in the NCAA Tournament. Four overtime games, a couple of No. 12-No. 5 upsets, and a few near misses left fans breathless after day one of the NCAA tourney.
The 11th-seed in the South Region, Dayton had to square off with in-state foe Ohio State, which had been to the Sweet Sixteen in each of the previous four seasons. The Buckeyes were in the Final Four just two years ago. Dayton sent them back to Columbus as reserve guard Vee Sanford hit a driving one-hander with four seconds to play to give the Flyers a dramatic 60-59 upset. It was the perfect way to start the day.
The day continued with a few games that did little to disrupt anyone's tournament bracket. No. 1 Florida pulled away to defeat Albany, Syracuse blew out Western Michigan, and Michigan State, considered a favorite to make it to the Final Four, got 41 points from Adreian Payne and destroyed Delaware.
Then Harvard took on Cincinnati. The Crimson were a No. 14 seed last year when they knocked off No. 3 New Mexico. This year as a No. 12 seed, head coach Tommy Amaker, the former Duke star, and company faced a superior athletic talent in the Bearcats. The Crimson matched Cincinnati with stifling defense and made offensive plays when needed. The result was a 61-57 win for Harvard. The win marked the seventh consecutive season that a No. 12 seed has won a first-round game.
And Harvard wasn't the only No. 12 to pull the upset. North Dakota State, champions of the Summit League, went toe-to-toe with the Big 12's Oklahoma. Lawrence Alexander hit a three-pointer that sent the game to overtime and the Bison's pulled away in the extra session on their way to an 80-75 win. It's the first win ever for NDSU in the NCAA tournament.
Louisville, another early favorite to make a run to the Final Four, had trouble with Manhattan, narrowly escaping after two big three-pointers by Luke Hancock. San Diego State, like Louisville a No. 4 seed, almost exited the tournament at the hands of New Mexico State. Xavier Thames' late free throws in overtime kept the Aztecs alive.
The tournament continues Friday with more second-round games and, most likely, more March Madness.