Japan Wins Second Consecutive Little League World Series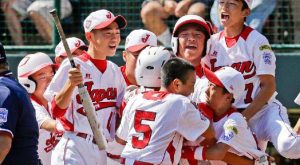 Making their fourth straight championship game appearance, the team from Tokyo, Japan received a two-run double by Ryusei Hirooka in the bottom of the fifth inning to take the lead and go on to win the Little League World Series, 6-4, on Sunday.
In the decisive bottom of the fifth, Takuma Gomi of Japan reached base on a single and Kyousuke Kobayashi followed with an infield hit. Hirooka then followed nailing a 2-2 pitch down the left-field line for the game-winning hit.
Japan also got two solo home runs from Shunpei Takagi, one of those coming in the bottom of the fifth inning prior to Hirooka's game-winner. Japan trailed 4-3 entering the fifth and Takagi's second home run of the game tied the score at 4-4.
California, making its 23rd appearance in the Little League World Series title game, got a two-run single from Giancarlo Cortez and an RBI single from Grant Holman, who earlier in the World Series pitched a no-hitter.
Cortez almost didn't have the opportunity to get back to the plate after he was hit by a pitch in the first inning. Japan starter Kazuki Ishida let a pitch get away from him and hit Cortez in the helmet. Cortez left the game briefly but was back on the field in the second inning.
The team from Chula Vista started quickly as Micah Pietila-Wiggins was hit by a pitch in the first inning and scored on a passed ball. Jake Espinoza doubled in the same inning and scored on the RBI single by Holman.
Holman, who hadn't pitched since Wednesday, was shaky to start the game, walking two of the first three batters he faced. Gomi, who hit a solo homer in the top of sixth inning to beat Mexico in the international championship game, hit an RBI single to tie the game at 2-2 after the first.
California mounted one last comeback in the sixth inning, but the Japanese turned a 3-6 double play to end the game. Chula Vista, which beat Westport, Conn., 12-1 in the U.S. championship on Saturday, stranded 12 runners on base during the game.
It was the 14th Little League World Series championship game for Japan, and their ninth championship. California has won seven World Series championships.
Most Recommended